'Libya can't fend for itself': UN official says 1mn in dire need of urgent medical supplies
Published time: 24 Feb, 2016 09:06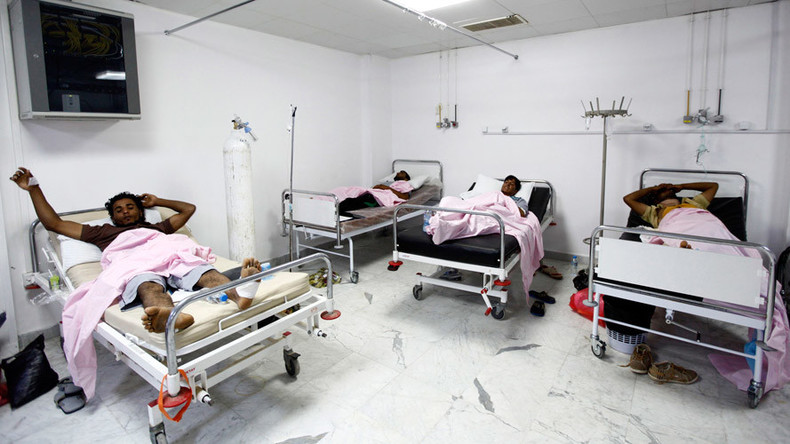 One million people in Libya will soon be in need of immediate help if medicines are not delivered soon, according to a UN humanitarian official, who added that the problems will be "a real issue" and could start within a month.
"Our estimation is that by the end of March, Libya may run out of life saving medications which will impact about 1 million people," said Ali Al-Zatari, the United Nations humanitarian coordinator for Libya, as cited by Reuters.
Political unrest in the North African country is not helping matters, making it difficult to coordinate deliveries of life-saving medicines. Al-Zatari says there is a drastic shortage of pharmaceuticals needed to try and treat diseases such as cancer, while he is also worried about the state of hospitals in Libya, which are not receiving adequate funding.
Al-Zatari was recently in the city of Benghazi, where he observed that only one or two hospitals out of a dozen were working. He also said that patients were not getting the care that they needed.
"It is really difficult for a hospital to continue like this in a town that is witnessing constant daily fighting in certain parts," he said.
Dozens of authorities in Libya
The oil-rich nation has been in chaos since an uprising that toppled then-leader Muammar Gaddafi five years ago. Libya oil revenues have halved, while it is also facing a growing threat from Islamic State (IS, formerly ISIS/ISIL), which is looking to capitalize on the lack of political stability and political infighting between two rival governments.
Speaking to RT, John Graham, a former US diplomat in Libya explained just how complex the situation is, with so many warring factions competing for power.
"The matter of fact is that there are dozens of authorities in Libya; I have no idea who they talk to. There is an internationally recognized government in Tobruk in the east, which is basically anti-Islamic. I suspect that is who the US 'talks' to," he said. "But there is also another so-called government based in Tripoli, which is more Islamist in nature. I doubt that US talk to them. There are 68 militias operating in Libya. Does the US talk to any of them?"
'Libya rich, but can't fend for itself'
There are an estimated 435,000 people displaced in Libya who are having to live in temporary accommodation, while there are around quarter of a million refugees who headed there in hope of a better life.
"Today we are receiving requests from NGOs for food. That is not a good sign. It means you have a sizeable portion of the community requiring food intake that is stable food intake," said Al-Zatari.
The UN humanitarian official said he is now trying to convince governments of the need to try and ease the crisis in Libya. However, with other countries also in desperate need of aid, winning support to help Libya is not always easy.
"The perception is Libya is rich and can fend for itself. Libya is rich but it can't fend for itself today," Al-Za'tari stated.
'Foreign intervention may drive Libyans into arms of IS'
The humanitarian situation could be about to get worse, with the West already undertaking airstrikes against IS targets in coastal regions of Libya. On February 19, Belgrade confirmed that two Serbian embassy staffers, who had been abducted in Libya, were killed during a US airstrike on a suspected IS training camp.
The airstrike was also condemned by the Libyan interim government, which called the unsanctioned bombardment a grave violation of its sovereignty.
The interim administration issued a statement saying it "strongly condemns the airstrikes carried out by the US Air Force at certain positions in the town of Sabratha on Friday morning, February 19, 2016, without any coordination or consultation with the interim Libyan government."
"Any interference, similar to the one that has taken place, will be considered an open and flagrant violation of the sovereignty of the Libyan state and international law," the statement said.
Meanwhile, Oliver Miles, a former UK ambassador to Libya, told RT that further military intervention could prove very risky.
"It is a very dangerous presence of ISIS in Libya. It is a threat to all of us. It is a threat in particular to Europe and to the world. But the dilemma is that if we intervene militarily, first of all it probably won't be effective, and secondly, if we are not very careful we are going to drive the Libyans into the arms of ISIS because they will object very strongly to foreign intervention," he said.