China deploys military jets to disputed South China Sea Island – report
China has deployed fighter jets to disputed Woody Island in the latest development surrounding the disputed South China Sea Islands, according to a media report. The move comes amid heightened tensions in the area.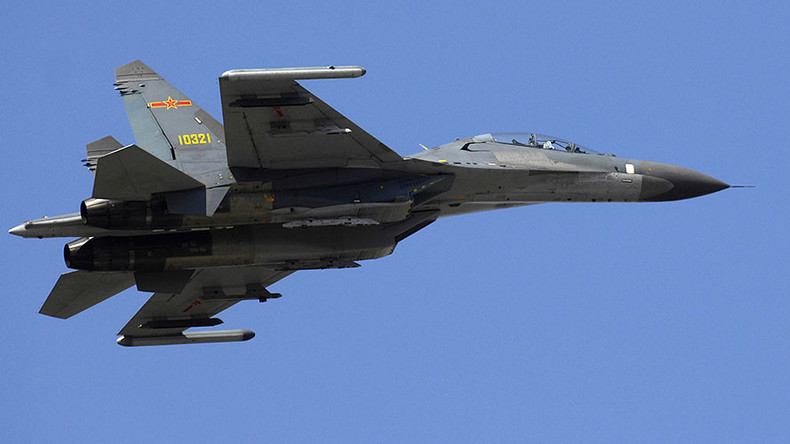 US intelligence spotted "under ten" jets near Woody Island, also known as Yongxing Island, an American official told Fox News.
The dispatched jets reportedly include China's Shenyang J-11s ("Flanker") and Xian JH-7s ("Flounder"). The sightings date back to a few days ago.
Fox News also reported last week that China had sent two batteries of HQ-9 surface-to-air missiles to the same island.
Earlier this week, China's Foreign Ministry claimed that its strengthened defenses on the South China Sea Islands are similar to US deployments in Hawaii, adding that Washington should not get involved in the territorial dispute.
"There is no difference between China's deployment of necessary national defense facilities on its own territory and the defense installation by the US in Hawaii," Chinese Foreign Ministry spokeswoman Hua Chunying told journalists at a regular press briefing on Monday.
This tense exchange comes after Secretary of State John Kerry hosted his Chinese counterpart, Foreign Minister Wang Yi, in the US. Wang was also scheduled to visit the Pentagon on Tuesday, but the meeting was canceled due to a "scheduling conflict," according to Pentagon press secretary Peter Cook.
READ MORE: US involvement could tip South China Sea into war - Asia studies head
Chinese Foreign Ministry spokeswoman Hua Chunying said on Wednesday that Beijing was being unfairly targeted by the media, which it says is ignoring radar and weapons being used by other claimants of the South China Sea.
"I suggest to the media that, in your reports, you not selectively pump up or ignore things," Hua told a daily news briefing on Wednesday.
"Because when you pay attention to what China is deploying, do you also pay attention to other countries which have over the years, on Chinese islands they have occupied, deployed many radars and advanced weaponry? I hope friends in the media can objectively, justly, rationally and calmly make their reports."
Last week, Washington criticized China's activities on the disputed Spratly Islands (known as Nansha Qundao in Chinese) in the South China Sea. Secretary of State John Kerry condemned China's "militarization" of the archipelago, promising "very serious conversations" with Beijing, according to Washington Post.
Meanwhile, the US has stepped up cooperation with its Asian allies to counter what it perceives as a rise in China's naval capabilities in the region and beyond. Washington's military measures include conducting regular naval patrols in the South China Sea, as well as air surveillance and US-led war games.
The Chinese and US militaries have previously had close encounters at sea and in the air leading to diplomatic turmoil.
Woody Island is the biggest island in the Paracel chain in the South China Sea. China laid claim to the island in the 1950s, but the rights to the area, which is at the heart of economically important shipping routes in the South China Sea, are being contested by Taiwan and Vietnam.
The archipelago also offers rich fishing grounds, along with possible oil and natural gas deposits, which explains the territorial disputes among neighboring countries.
READ MORE: Beijing deploys 'necessary defenses' on disputed South China Sea Islands, says in line with intl law
You can share this story on social media: