1st major LGBT refugee shelter opens its doors in Berlin (VIDEO)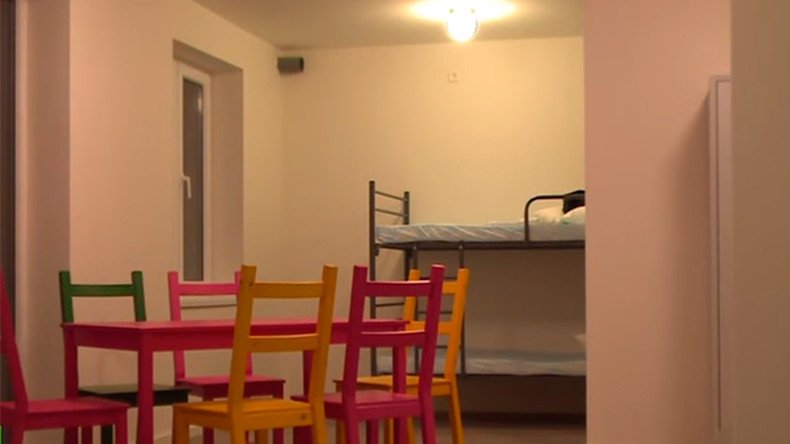 An LGBT-only refugee center in the Treptow-Köpenick borough of Berlin is set to accommodate some 140 gay, lesbian and transgender refugees following its opening Monday.
The driving force behind the project is the local LGBT consultancy Schwulenberatung Berlin. Scores of refugees asked them for help, as their sexual orientation served as a pretext for abuse by co-dwellers in regular refugee shelters.
"Many refugees approached us and asked for help as the situation in public shelters became unbearable. Many report discrimination, offences, being spat on and cases of violence. They were beaten, kicked and abused. Some were threatened with rape and murder and we even had cases where the abuse could have led to death," Stefan Jäkel, spokesman for Swulenberatung Berlin, told Ruptly TV about the aid group's motivation to create a safe haven for one of the most vulnerable groups in refugee community.
The facility will welcome refugees in several stages as the upper floors still need the smoke removal system to be installed. On Tuesday, the first 18 dwellers will move into the shared flats, another 122 are expected to settle down in their new home in the coming weeks.
Initially, the building allocated for the LGBT refugees' needs, was designed as a commercial and residential complex. However, Hendrik Gaudl, its owner and the head of an architectural firm, changed his mind after the inflow of asylum seekers into Germany drastically increased last summer. In a bid to make his own contribution to resolving LGBT refugees' problems, he contacted the State Office of Health and Welfare (LaGeSo) and obtained permission to register the building, then still under construction, as a shelter.
The center will not only house the refugees, it also aims to ease the process of their integration into German society, in particular, into its LGBT community, by offering special German language courses.
"We will have special offers such as German and integration courses, which will be held by gay and lesbian teachers who offered us help. We will learn the community vocabulary, which they will not be able to learn in usual German courses. We are getting a lot of support from Berlin's LGBT community as well as local offers," Jäkel told RT.
Although the shelter calls itself the first of its kind in Germany, another center that can host up to eight gay refugees had already been opened in the city of Nuremberg on February 8. The facility has been managed by the German gay and lesbian group Fliederlich.
The Lesbian and Gay Federation in Germany (LSVD), the largest non-governmental lesbian, gay, bisexual and transgender (LGBT) rights organization in the country, has received reports about 106 cases of violence toward LGBT refugees, 13 of which were of sexual nature. Most of the cases, reported in the period from August to the end of January, took place in refugee shelters.
"Even if they don't get abused right away, they're always afraid their identity will be revealed and then they'll be targeted," said Mahmoud Hassino from Schwulenberatung Berlin, speaking of the dangerous environment in which people fleeing war and persecution have to live in Germany, as cited by AP.
A majority of abuse cases remain unreported as LGBT refugees refuse to approach police, afraid their asylum applications would be rejected.
The number of LGBT asylum seekers in Berlin is estimated to be around 3,500 people.
Numerous cases of physical and sexual abuse against gay, lesbian and transgender migrants from fellow refugees have been recorded in shelters across Europe since the beginning of the migrant crisis. Apart from Germany, the cases of violence were also registered in the Netherlands, Denmark, Sweden and Finland.
You can share this story on social media: