Projected keyboard, VR, & 5G grab Day 1 headlines at Mobile World Congress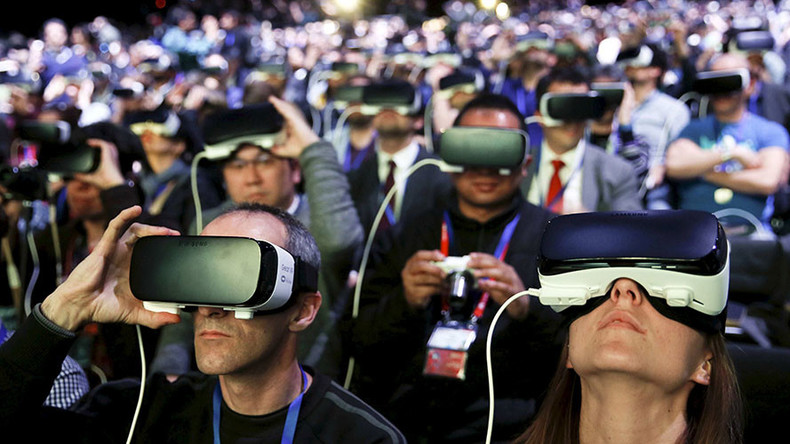 The electronic extravaganza known as the Mobile World Congress kicked off in Barcelona on Monday – and some "must-have" gadgets have already emerged.
Attendees also learned more about 5G internet access - and some were possibly indoctrinated into a VR cult led by Facebook CEO Mark Zuckerberg.
Calling it "the most social platform" of the future, the baby-faced billionaire says most technology companies are on the same wavelength when it comes to VR.
The real, in-the-flesh Zuckerberg helped Samsung "unpack" their new virtual offering, Gear 360, which is powered by Facebook's Oculus Rift technology.
All those who could get a seat at the event found a VR headset waiting for them and together they all plugged into the matrix.
The tennis ball-sized 360-degree camera will apparently be good for capturing ballet.
Nokia (remember them?) also unveiled its virtual reality 360 camera, which will cost US$60,000.
Predator hunters and aspiring assassins will be eager to get their hands on the Cat S60, which comes with built-in thermal imaging.
With the ability to create thermal maps from up to 100 feet (30 meters) away, Cat will be keen to attract those in the construction industry.
Sony Life Space UX products also caught folks' attention.
These "intelligent devices" are aimed at assisting users in their daily lives and, while they're still in development, give an exciting peek at what's to come.
The "Xperia Agent" and "Xperia Projector" display images and interactive apps including a virtual keyboard that can be used on any surface.
This robot kicking a ball is a big viral hit.
With each passing MWC, some have noticed a trend in how handheld devices are beginning to mirror their cousins of yesteryear when it comes to size.
There has also been a lot of discussion focused on the future of 5G, as telecommunications providers from around the world detailed their plans for when the so-called fifth generation of mobile internet, which is predicted to be many times faster, finally comes on line.
EU Commissioner for Digital Economy and Society Günther Oettinger says 5G is expected to be rolled out in some parts of the EU by 2020, while Intel says it thinks it could be in markets like the US as soon as 2018.
One company not happy with MWC, however, is Uber.
The taxi app company is unable to launch in Spain due to what it calls "the most restrictive transport laws in Europe" – and thus is unable to make any money from the thousands in attendance at the event.
Then again, it also ensures that Uber drivers won't shoot people in between picking up passengers.
READ MORE: Kalamazoo shooting suspect picked up Uber customers during rampage - police
The company said in a statement that it hopes Spanish authorities "will seize the opportunity this year to modernize its transportation regulations".