German justice minister wants 'xenophobic' right-wing party on spy watch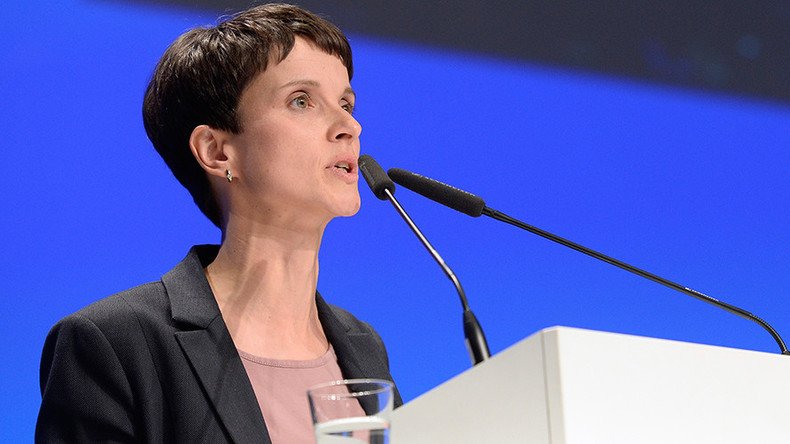 The Alternative for Germany (AfD), believed to be the most vocal far-right anti-immigrant party, has to be monitored by domestic security service for its "xenophobic positions" that stir up hate and racism, Justice Minister Heiko Maas said.
The AfD's activities "have long been a cause" for oversight by the Federal Office for the Protection of the Constitution, Germany's principal homeland security agency, Justice Minister Heiko Maas told the RND news outlet on Monday.
"Whoever wants to allow shooting at refugees, men, women and children on the border, represents xenophobic positions," Maas stressed, referring to recent comments made by the party's leader, Frauke Petry.
In late January, she demanded a fence be erected on the German-Austrian border, and the police be given right to open fire on those attempting to cross the border illegally.
"As a last resort, there should be recourse to firearms," she said in an interview with Mannheimer Morgen, a German newspaper.
Putting AfD on spy watch would be an essential effort to hamper its rise, Maas stressed.
"We should not prepare ground for people who expect xenophobia and racism to be approved [by society] because of the number of refugees or New Year Eve's events in Cologne," the minister said.
The AfD's "idiotic slogans" must be unmasked, Maas said. The party, he added, "makes a living" from stirring up protests and resentment.
Those who, like the AfD, utilize anti-refugee fears "in order to get political profit," cannot provide any answers and only "poison the debate," the minister said.
It is unclear whether the homeland security service will authorize monitoring of the AfD.
The service reports to the Interior Ministry, which stated earlier in February the party does not qualify for oversight, and presently poses no danger to democracy and rule of law, according to Die Welt newspaper.
Cornering the party would actually only strengthen it, German experts warn. Matthias Jung, head of the Mannheim-based Forschungsgruppe Wahlen think tank that conducts polls for ZDF and DPA, told Deutsche Welle: "Polarization does mobilize – and mobilization is something that the AfD may need."
In January, the Social Democratic Party (SPD) led by Vice Chancellor and Economy Minister Sigmar Gabriel urged that the AfD or PEGIDA should be monitored by the homeland security service. In a memo cited by Spiegel, the SPD warns of "dangerous extreme right trends within the AfD party and groups such as PEGIDA."
The AfD was founded in 2013 by a group of economists and businesspeople, who originally advocated Germany's exit from the eurozone. In two years, the party swapped its economic agenda for an anti-immigrant, most notably, anti-Muslim, stance in an effort to capitalize on people's concerns over mass immigration.
It failed, however, to get into the German parliament in the 2013 federal election, but gained two seats in the European parliament. The AfD was also accused of ultra-right leanings and low-key contacts with the far-right PEGIDA and neo-Nazi National Democratic Party (NPD).
One of the party's key figures, Björn Höcke, has made headlines with hardline nationalist rhetoric. Some of its slogans, such as: "Germans! Three thousand years of Europe, 1,000 years of Germany," have been compared to Nazi propaganda, resembling Hitler's "thousand-year Reich" concept.
You can share this story on social media: