US rejected peace talks, demanded Pyongyang's denuclearization before latest nuclear test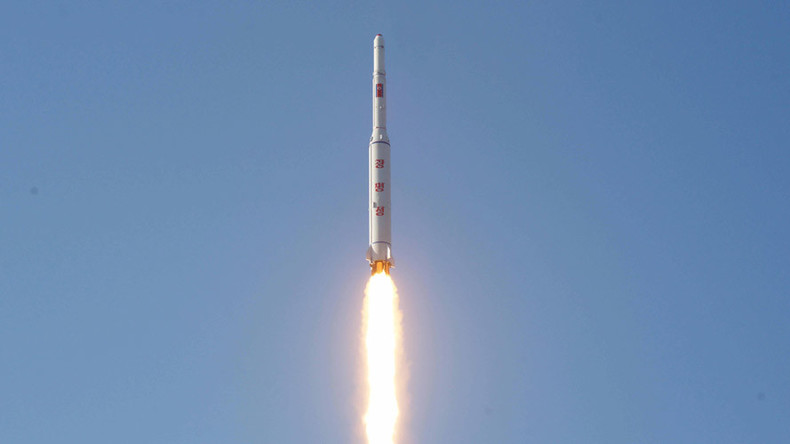 Washington has rejected reports claiming that the US was ready to drop Pyongyang's denuclearization as a precondition for talks over a peace treaty to officially end the Korean War, and said the talks failed because of the North's nuclear posturing.
The United States and North Korea held secret negotiations to end the 50-year-old conflict, a report by The Wall Street Journal claimed. Citing US officials, the publication said that the Obama administration was willing to drop its longstanding precondition that Pyongyang must first take steps to curtail its nuclear activities.
Instead the White House allegedly proposed that North Korea's atomic weapons program should be dealt with as "simply part of the talks." According to US officials familiar with the events, Pyongyang declined the proposal. Its nuclear test on January 6 ended the diplomatic effort to finally conclude the war that ended in 1953 with an armistice.
Following the article by the WSJ, the State Department acknowledged the American negotiations with North Korea. However, it said that it was Pyongyang's initiative to hold discussions on the issue.
"To be clear, it was the North Koreans who proposed discussing a peace treaty. We carefully considered their proposal, and made clear that denuclearization had to be part of any such discussion," said spokesman John Kirby, adding the North rejected it. "Our response to the North Korean proposal was consistent with our longstanding focus on denuclearization."
After testing what the North called a miniature hydrogen bomb on January 6, ten days later, Pyongyang demanded the conclusion of a peace treaty with the US and a halt to US military exercises with South Korea.
In response the US Deputy Secretary of State, Antony Blinken, said that the North needs to demonstrate by its actions its serious about denuclearization before any dialogues could start. After that, on February 7, communist Korea fired a long-range rocket to place its communications satellite into orbit.
The story on negotiating a peace treaty deal continued on Thursday, when Washington rejected a Chinese proposal to start peace negotiations with North Korea alongside denuclearization talks.
"Denuclearization remains our top priority. We remain in close contact with the other five-party partners on our shared goal of the denuclearization of the Korean Peninsula in a peaceful manner," State Department spokeswoman Katina Adams said at the time.
That same Thursday Obama signed into law the North Korea Sanctions and Policy Enhancement Act, strengthening and expanding sanctions in response to the recent tests. On both occasions Pyongyang violated the UN Security Council resolutions banning it from launches that may be used as ballistic missile carrying nuclear warheads.
The Korean War in 1953 concluded with an armistice that was signed by the US, the North Korean military and the Chinese army. Pyongyang wants all three sides and South Korea to sign a treaty.