Cuatro for Evo? Bolivians vote on fourth term for President Morales
Published time: 22 Feb, 2016 00:10
Edited time: 22 Feb, 2016 00:20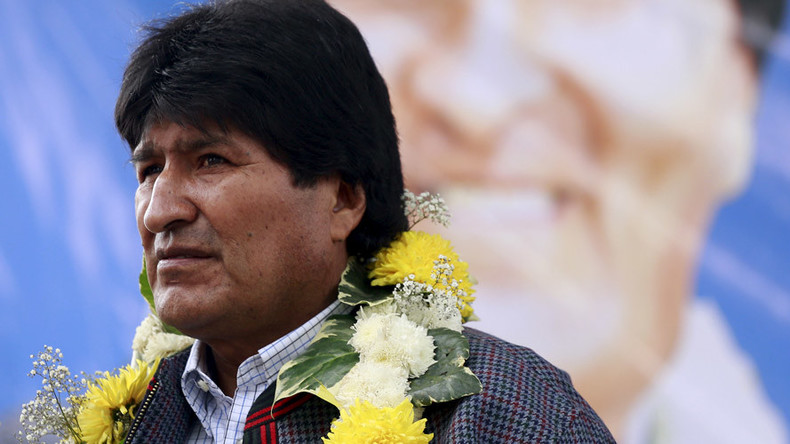 Bolivians voted Sunday in a referendum to amend the constitution and allow their popular indigenous president Evo Morales a chance to run for a fourth term in 2019.
Morales has been president since 2006. Bolivian law states a president can run for two consecutive terms, but the Constitutional Court ruled he could run for a third term in 2013, as his first term took place before the constitution was created in 2009.
6.5 million Bolivians will take part in mandatory voting, with final polling showing both sides at about 40 percent.
The No side gained recently in the wake of corruption allegations by a "journalist" who the Morales government says worked for Bolivia's intelligence service when the country was closely aligned with the US.
Morales is longest-serving and first indigenous president of Bolivia.
The 56-year-old has steered Bolivia into strong economic growth by taking income from oil and natural gas and channeling it into welfare programs.
While Bolivia remains poor, poverty has dropped from 60 percent in 2006 to 40 percent in 2013. Bolivia has annual average economic growth of 5 percent, the highest in South America.
Like many of his South American colleagues, Morales is know for standing up to imperialism and maintains his presidency allowed Bolivia to develop and resist influence from other nations.
"Here we never had political stability … There was always coup after coup. In order to dominate us from abroad, they divided us politically so they could take our natural resources," he told the Observer.
Bolivia was exploited for its resources since the privatization of mines in the 70's as a result of IMF and the World Bank "shock therapy". In 2000, indigenous people protested at the US embassy for water to be returned to the public.
President Sanchez de Lozada was driven out in 2003, and Bolivians voted for democracy and against 'free' trade agreements.
Lozada had grown up in the US and sold the country's gas and water to multinationals, leading to water charges for the people.
The next president, Carlos Mesa, failed to implement the changes and resigned. Morales was elected in 2005, and followed through on his campaign promises to fight for indigenous rights and combat poverty and neo-liberalism.
Environmentalists object to the effects of foreign mining companies on the environment and are against Morale's opening of national parks to mining companies.
Morales says this is necessary to continue economic growth until the nation can turn to other sources of revenue. His opponents accuse him of corruption and nepotism.
Morales grew up without running water and was a coca grower. A former US ambassador once described him as being like Osama Bin Laden.
The world will find out how Bolivian voters feel about him Monday when the results of the election are announced.