Corsica police conduct arrests, find explosives ahead of thousands-strong march (VIDEO)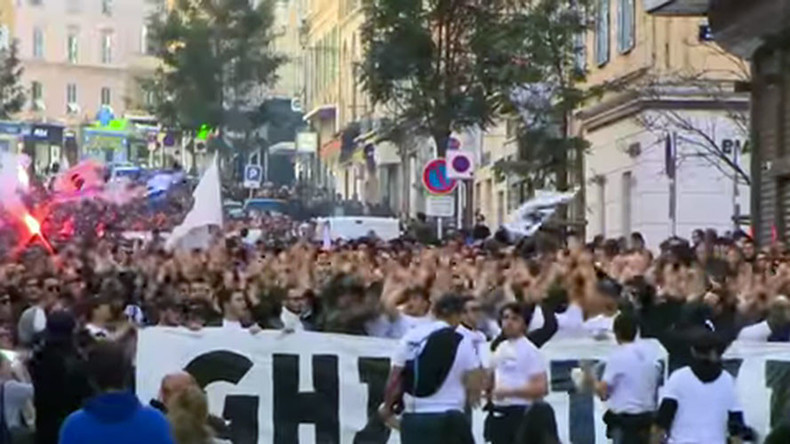 Police made a number of arrests and reportedly discovered several bowling balls filled with explosives as thousands marched in Corsica in support of Maxime Beux, a football fan who suffered an eye injury in clashes with police after a Reims-Bastia match last week.
More than 10,000 people, mainly SC Bastia fans, according to organizers, flooded the streets of Bastia on Saturday. United behind a banner reading 'Ghjustizia per Maxime' (Justice for Maxime), the activists demanded justice for a young Corsican who was injured one week ago during the clashes with police in French city of Reims.
Shortly before the start of the procession, Haute-Corse prefecture announced that police had discovered explosive devices near the city hall. According to AFP, the homemade bombs were contained in bowling balls that had been hollowed out and filled with explosives. Despite the discovery, the authorities allowed the activists to continue their march.
The procession led by the main supporters of the Bastia 1905 football team gathered in the morning and marched from the Bastia's courthouse down the Paoli Boulevar towards the city hall, chanting "justice" and "French government assassin!" The protesters wore Corsican flags and the colors of their football team.
While the authorities feared a repeat of last week's violence, the procession went on peacefully for the most part.
At around 4:20pm police issued a call to disperse the crowd. Roughly an hour later, the city returned to its everyday calm. During the day, three people were arrested while a young man was detained in the early evening having been in possession of a Molotov cocktail.
Tensions have been high in Corsica for one week since in the incident, culminating Tuesday evening in Corte, where around 50 masked protesters threw Molotov cocktails at the police, who responded by firing tear gas.
Protests started when Maxime Beux, a 22-year-old supporter of SC Bastia, reportedly lost an eye on last Saturday, following a confrontation with police after a football match in Reims. While for SC Bastia fans say that an officer had fired a flash-ball in his face, the police have declared that the young man fell on a pole after being pursued. The prosecution has decided to open an inquiry to examine the circumstances in which Beux was seriously injured in clashes with security forces on February 13.