One bumpy ride: Passenger jets blown about before landing at 'Europe's scariest airport' (VIDEO)
Published time: 20 Feb, 2016 12:08
Edited time: 20 Feb, 2016 15:25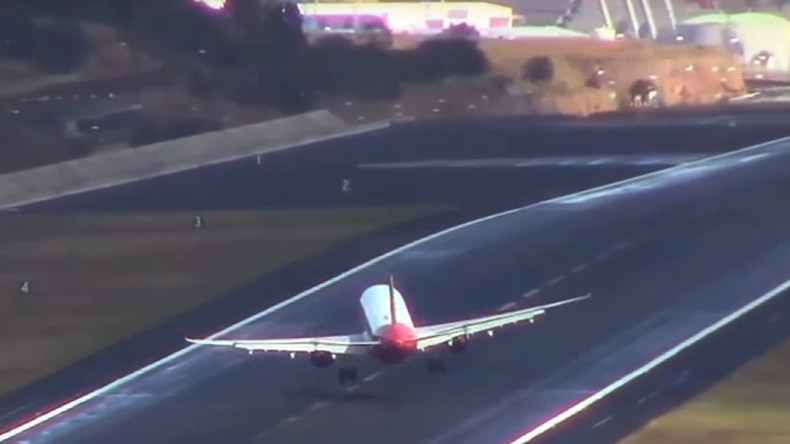 Nerve-wracking footage shows commercial flights on a perilous approach to the runaway, blown about by the heavy crosswinds at "Europe's scariest airport" on the Portuguese island of Madeira, a popular holiday spot.
The first plane in the footage, filmed on Thursday at Funchal airport, can be seen veering sideways away from the tarmac before eventually landing on one wheel, with the pilot struggling against the 49-mph winds to straighten the jet up to touch down on one of the shortest runways in Europe.
The second passenger jet was forced to abort its landing with its wheels already out, moments before it was about to hit the tarmac – seemingly pushed from its course by a strong blast of wind.
Due to safety concerns, the airport's original runaway has been extended twice: in 1977 after a major plane crash claimed the lives of 131 people, and again in 2000. The modifications saw the runway's length increase from 1,600m (5,249ft) to 2,781m (9,124ft)
Funchal airport is located between the mountains and the Atlantic Ocean, and is considered to be one of the most dangerous in the world. Pilots have to complete special training to navigate any planes landing at the airport, due to its especially tricky landing route.