'State of natural disaster': Deadly Cyclone Winston strikes Fiji islands (PHOTOS, VIDEO)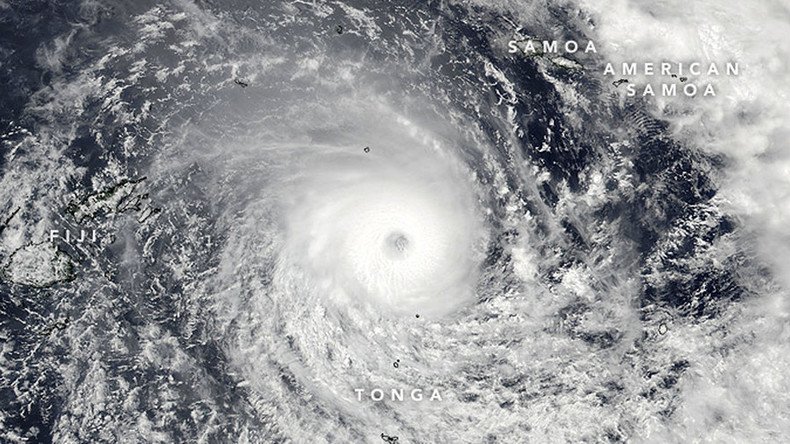 Fiji's South Pacific islands are in emergency lockdown, with all flights in and out of the country suspended, as hurricane force winds from Cyclone Winston batter the nation.
The government has declared a 30-day state of natural disaster over the Category 5 cyclone, believed to be the strongest in history to hit the area.
One fatality has been reported - a man died after a house collapsed on the island of Koro, according to the Fiji Times.
Earlier, residents were advised to either seek shelter in one of the 758 government evacuation centers or secure their homes against the storm, and a 6pm curfew was issued.
Winds of over 200km/h have been reported since the tropical storm made landfall Saturday, while there are fears of flooding and landslides.
A severe weather warning for the three largest islands Viti Levu, Taveuni, and Vanua Levu - where the majority of the population live - has been issued by the Fiji Meteorological Service.
The cyclone is traveling west over the islands and has already hit the island of Viti Levu, close to the capital Suva.
Fiji's prime minister, Josaia Voreqe Bainimarama, has urged people on the South Pacific islands to "stick together" as the country faces "an ordeal of the most grievous kind."
"I ask parents to be especially careful of the young and the elderly. Do not allow anyone to go outside during the storm itself. The threat of being hit by flying debris is extremely high," Bainimarama had warned during the storm's approach.
Authorities are having difficulty assessing the full extent of storm damage at this point as communications are down across many of the islands' towns and villages.
Earlier, Fijians shared videos online of the destructive power of mother nature, as the cyclone began to accelerate inland.
You can share this story on social media: