Serbia closes Macedonia border to unregistered refugees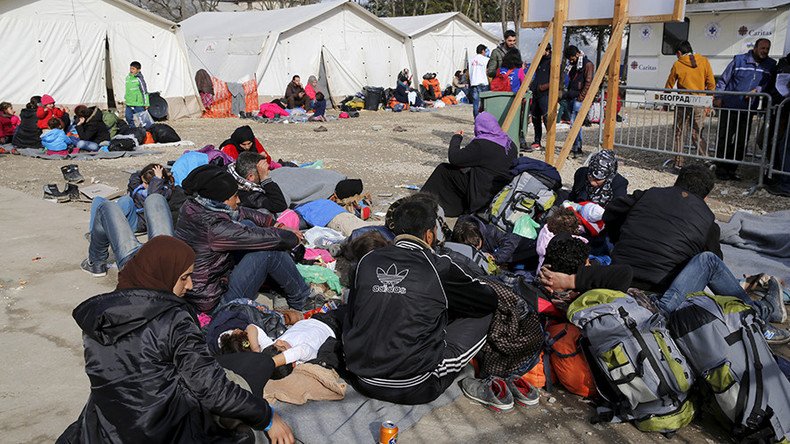 Serbia has closed its border with Macedonia to unregistered refugees, imposing stricter border controls for the purpose of preventing illegal migration, local state TV reported citing officials.
The Serbian border with Macedonia has been closed to refugees who have not been registered at the Greek-Macedonia border in accordance with the Thursday agreement between the countries of the so-called 'Balkans route,' RTS TV reported, citing police.
The Serbian Interior Ministry spokeswoman, Biljana Popovic Ivkovic, said that the border with Macedonia is not closed, but that passage is allowed only to refugees from countries affected by war.
"As of today, the signatories to the protocol are actually profiling the migrants, which means stricter border control for the purpose of preventing illegal migration," she said.
The protocol agreed upon by Serbian, Croatian, Slovenian, Macedonian and Austrian police chiefs envisions collecting identification and biometric information from refugees, in order to determine whether they are coming from countries where their lives are in danger, such as Syria, Iraq and Afghanistan.
The refugees will not be given the status of asylum seekers immediately upon registration at the Greek-Macedonian border, Reuters reported, adding that this will be done later in the country to which they are traveling.
Mirjana Ivanovic-Milenkovski, from the UNHCR Department of Public Relations in Serbia, said the border has been closed since 12:30pm local time, the Novosti newspaper reported. According to the UNHCR, there are 300 refugees already in Serbian Presevo, and 750 people in Macedonian Tabanovce who are waiting to leave for Serbia.
"This sounds like a measure the EU should have implemented last year, when the migrant tide first surged. Now, it may be too little, too late," said Nebojsa Malic, Balkans expert and a journalist at RT America.
"Serbia has no choice but to close the border if the EU countries refuse to accept the migrants. It is barely managing its own affairs, after 15 years of EU and NATO-dictated reforms and policies. The migrants certainly don't want to stay, preferring the welfare programs of Germany and Sweden. And with widespread popular discontent with the government, and a pending election, the last thing the Serbian PM wants is a 'pile-up' of migrants inside Serbian borders."
On Thursday, Hungary said it would shut three railway crossings with Croatia for 30 days from Sunday. Hungary's interior minister, Sandor Pinter, explained on Friday that the crossings will be closed because Croatian authorities sent a train full of refugees toward Hungary under police escort.
A record number of migrants and refugees arriving in Greece have used the Western Balkan route to make their way via Macedonia and Serbia into Hungary and Croatia, and then towards Western Europe. After Hungary erected a fence on its border with Serbia last September, the flow of migrants shifted to neighboring Croatia. According to figures from EU border agency Frontex, in all of 2015 the region recorded 764,000 detections, a 16-fold rise from 2014. The top-ranking nationality was Syrian, followed by Iraqis and Afghans.
LISTEN MORE:
You can share this story on social media: