Austria switching to 'plan B,' fortifying borders against refugee influx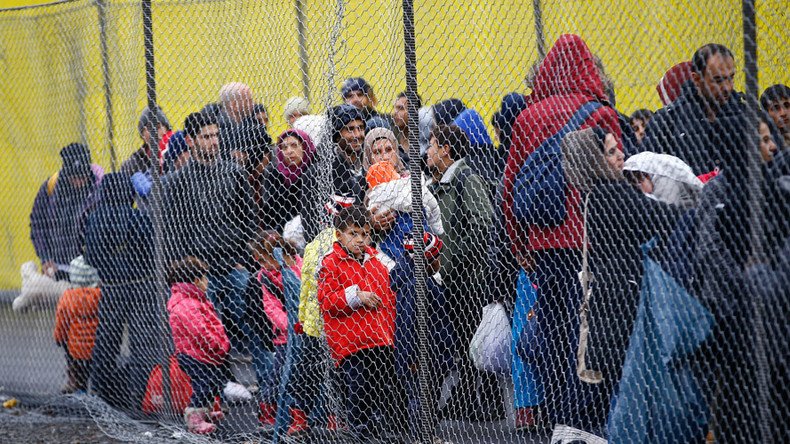 Austria has announced the introduction of checkpoints on 12 more crossings along its Italian, Hungarian and Slovenian borders. The decision was made after the EU failed to ensure the securing of its external boundaries.
"Plan A [sharing refugees across the EU states] isn't enforceable as Austria is proposing it, and it won't be this Thursday and Friday," Austrian Chancellor Werner Faymann told reporters after the weekly government meeting in Vienna, as cited by Bloomberg.
"Plan B [securing Austrian borders] is plan B, our sense for reality demands that," he added.
The so called "Plan B" includes introducing tough controls on 12 additional border crossings in Carinthia, Styria, Tyrol und Burgenland – Austrian lands along the borders with Italy, Hungary and Slovenia. Austria is also going to introduce daily limits on accepting migrants and refugees.
"There will be different structural measures from containers to further barriers," Interior Minister Johanna Mikl-Leitner said as cited by France 24. Austria has recently built a fence at Spielfeld, the main Austrian-Slovenian border crossing.
Mikl-Leitner also said the border control would be based on four principles: "classic border securing" which also implies reconnaissance and supervision of the border area; control over arriving people and transport (including trains); forced prevention of illegal border crossing; and control inside the country.
The decision was agreed along with the countries of the Visegrad Group – Poland, Hungary, Czech Republic and Slovakia.
"There is a consensus with the Visegrad countries that, as the protection of the outer borders is failing, it's become necessary to make safe the borders within" the EU, Faymann said, Bloomberg reported.
"It's an emergency solution that nobody has wished for, but we have to look reality in the eye," he added.
The Austrian steps aimed at strengthening border controls are likely to provoke the same measures in West Balkan countries – a "domino effect" of border clampdowns as Mikl-Leitner described it. Officials in Slovenia, Croatia, Serbia and Macedonia repeatedly warned they would close their borders if their neighbors did it.
That is not the first step made by Austrian authorities to control the influx of migrants and refugees. Last month the Austrian government said it would seek to cap the number of asylum seekers at 37,500 in 2016. On February, 1, Austrian Foreign Minister Sebastian Kurz said the country was going to deport 50,000 failed asylum seekers in the coming four years.
Austria also proposed to use the EU's border agency Frontex to send asylum seekers entering the EU via Greece back to Turkey but the initiative was not supported.
Last year Austria had 90,000 asylum applications which was the second highest number of refugees per capita in Europe.
You can share this story on social media: