'Hypocritical' UK politicians must take responsibility for Calais migrant crisis – deputy mayor
Published time: 18 Feb, 2016 16:58
Edited time: 19 Feb, 2016 18:30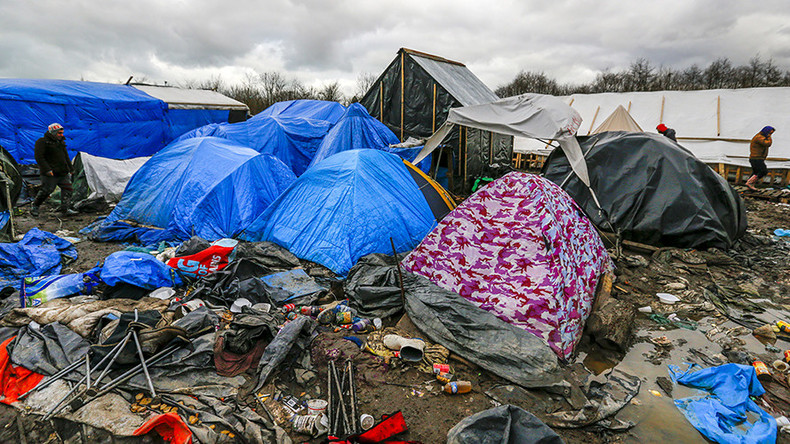 British politicians must stop being "hypocritical" and realize they have a responsibility when it comes to the Calais migrant crisis, the city's deputy mayor told RT. He added that Brussels and Paris are also failing to help.
The city of Calais has become a symbol of Europe's migrant and refugee crisis, with asylum seekers housed in a makeshift camp notoriously known as 'The Jungle.'
"It is a situation we have not chosen, that has imposed itself on the city," Deputy Mayor Philippe Mignonet said during a live interview, stressing that Calais is not a destination, but rather a crossing point for people hoping to reach England.
"Whether it's good or bad to go to England, we know it is not the paradise described to [the migrants] in their original countries by the traffickers. But they still want to go to England. And when we try to explain to them their rights, that they can claim asylum [in France] – for the ones who are entitled to claim asylum – most of them are refusing," he said.
But despite the migrants' determination to reach British soil, Mignonet says the UK is failing to accept its fair share of responsibility surrounding the crisis.
"The English politicians...must stop being hypocritical. They know why the migrants – everybody knows now – why the migrants are in Calais, and it's easy to say that is it our problem or responsibility. They have a part of [the] responsibility as well, and it's not by tackling the city of Calais or the mayor of Calais that it will change. It's better, it will be better, at the end, to work together," he said.
He went on to stress that although the UK offered €15 million (US$16.6 million) to Calais to secure the border, that money was not for the city of Calais.
"It is to the port of Calais, to secure the port of Calais, because the English border is on French soil," Mignonet said, stating that the city itself is also suffering.
"People are tired, I would say they are fed up of a situation that Calais has known for 17 years now...it's killing the economy...because of the image, investors are reluctant to come," he said.
The deputy mayor went on to state that Calais feels as though it is "facing the situation alone," abandoned by the UK, France, and Brussels.
"We are blamed by all other countries, and by England...England is saying 'it's your problem.' Brussels said recently 'you should do more in Calais.' What do we do, as a city? Calais is one of the poorest cities in France. We've got 17 percent unemployment..."
Although Mignonet admitted that France's Home Office minister "tries to do the maximum with the power he has as minister," he simply cannot do enough because "he is not the prime minister, he is not the president."
French Prime Minister Manuel Valls "has been Home Office minister in the past, [but] I think he's forgotten everything he knew in that time; he's not doing anything," Mignonet said.
But he went on to state that President Francois Hollande is most to blame for his inaction.
"If I've got a message for Francois Hollande, he's got to come to Calais. He will face the reality...we need help from Paris, from London as well."
"I think to have a summit in Calais regarding [the] situation would be more than fair," he stated.
LISTEN MORE: