Pope calls for end to 'migrant death & exploitation' during mass at Mexico-US border
Published time: 18 Feb, 2016 12:03
Edited time: 18 Feb, 2016 12:06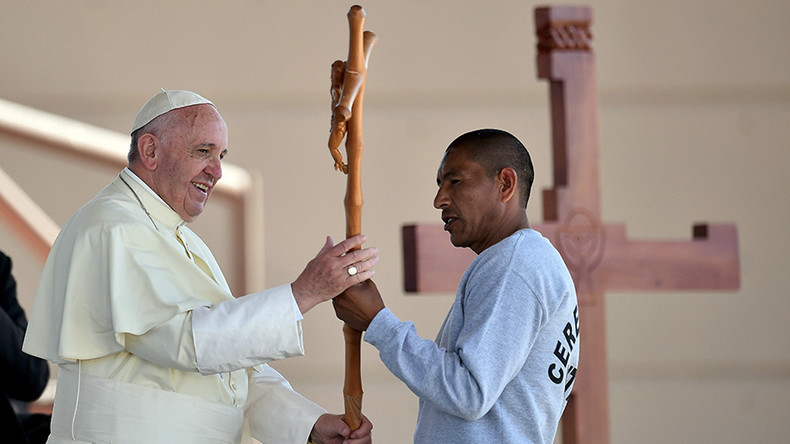 Pope Francis has told governments not to ignore the "human tragedy" of forced migration. Speaking at a Mass in Ciudad Juarez, at Mexico's US border, he demanded "No more death! No more exploitation!" in reference to the thousands who have perished trying to reach America.
The Pope, himself the son of Italian immigrants to Argentina, slammed policies that force migrants to put their lives on the line and turn to human smugglers and drug gangs in desperate attempts to reach their chosen destinations.
Hundreds of thousands gathered for Mass at a fairground in Ciudad Juarez, where Francis walked up a ramp lined with flowers to a cross erected in memory of migrants who have died trying to reach the US. In addition to those who gathered in Ciudad Juarez – which is home to 1.5 million people and was once one of the world's deadliest cities – an estimated 30,000 more watched the pontiff live via a screen at a football stadium across the Rio Grande in El Paso, Texas.
During his "cross-border" Mass, the 79-year-old Pope did not go as far as to call on the US to open its borders, but did urge recognition that thousands fleeing gangland killings and extortion should be considered victims, and "our brothers and sisters."
"We cannot deny the humanitarian crisis which in recent years has meant the migration of thousands of people, whether by train or highway or on foot, crossing hundreds of kilometers through mountains, deserts and inhospitable zones," he said, according to AP. "Each step, a journey laden with grave injustices: the enslaved, the imprisoned and extorted; so many of these brothers and sisters of ours are the consequence of trafficking in human beings," Francis added.
The Pope is on a six-day visit to Mexico, and his focus on the plight of migrants – many of whom walk a tightrope, risking murder, rape and extortion in an attempt to reach America – comes as the number of Central American children and families apprehended at the border is on the rise, according to Reuters.
"Injustice is radicalized in the young; they are 'cannon fodder,' persecuted and threatened when they try to flee the spiral of violence and the hell of drugs. Then there are the many women unjustly robbed of their lives," Francis said.
Francis was asked by a Mexican journalist about his trip to the US in September, and the Pope confirmed that on the trip he had thought about crossing the border in solidarity with migrants: "I thought about doing it, because I wanted to enter the United States from the Mexican border," he said.
Immigration reform is one of the most divisive issues in US politics, and the Pope's plea for Mexican migrants coincided with the US presidential election primaries, where the fate of at least 11 million undocumented immigrants is the subject of hot debate.