World first: French patient wears 3D virtual reality glasses to guide surgeons during operation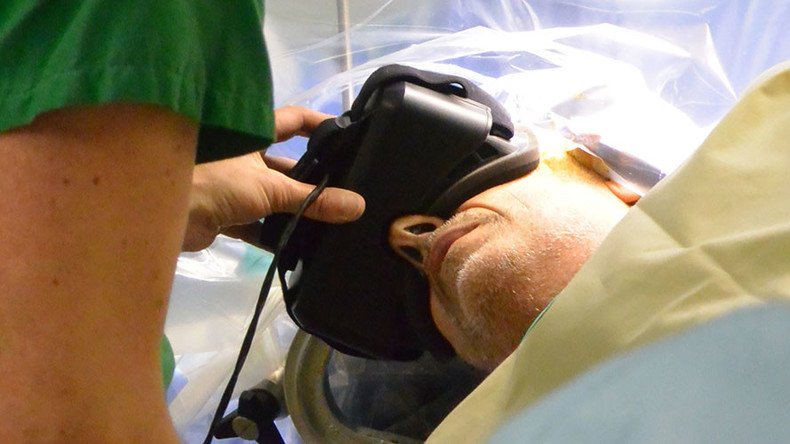 Surgeons have made history in France, removing a cancerous brain tumor from a conscious patient wearing 3D virtual reality glasses. Placing the patient in an "artificial world" allowed the doctors to easily test parts of the brain during the operation.
"In creating a completely artificial world for the patient, we could map certain zones and connections of his brain related to functions that we could not, up to now, easily test on the operating table," Philippe Menei, a neurosurgeon at Angers hospital in western France, told AFP.
According to the neurosurgeon, virtual reality glasses "open the way to greater precision, and allow us to envision procedures that were not possible up to now, such as the removal of otherwise inaccessible brain tumors."
The technology was specifically used to protect the patient's vision, as he had already lost sight in one eye due to an illness.
"In this empty void, we could control the space and make luminous objects appear in the patient's peripheral vision," Menei said.
The patient underwent the surgery on January 27 and is recovering well, according to the neurosurgeon. He is now preparing to undergo chemotherapy.
Although the use of virtual reality glasses in surgery is groundbreaking, the practice of operating on conscious patients has been common practice for over a decade. Doing so allows surgeons to determine during the operation whether the patient's speech, vision, and movement functions are being affected. Patients cannot feel anything during the surgery.
Menei and his team plan to use virtual reality glasses during surgical procedures in the coming months, on patients with brain tumors situated near areas that control vision. The glasses could also be adapted for children, and may be tested on young patients before the end of the year.
You can share this story on social media: