Russia's campaign in Syria shifted balance of power in the region – Iran's defense chief
Published time: 17 Feb, 2016 03:30
Edited time: 17 Feb, 2016 12:03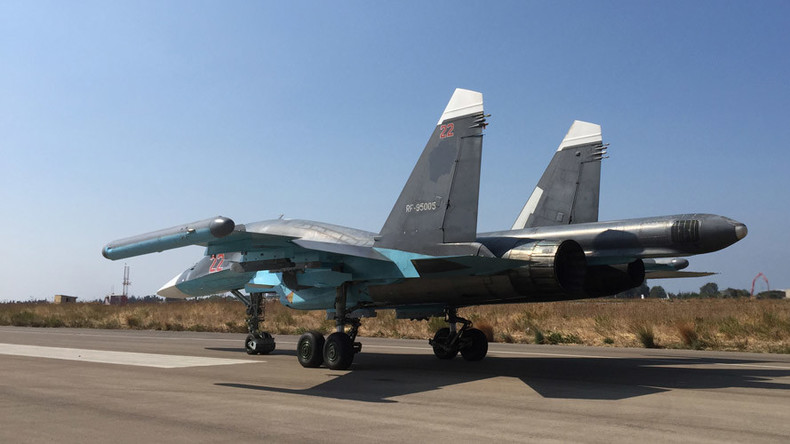 The Russian anti-terror campaign in Syria has shifted the balance of power in the region, the Iranian Defense Minister said while visiting Moscow, eager to purchase billions of dollars worth of "defensive" weapons to secure its own position in the region.
"Russia's presence in Syria, of course, changed the security atmosphere, [and] changed the balance of power," Hosein Dehghan said in an interview with Rossiya 24 news channel.
Dehghan also stressed that Iran, which has "a unique position in its region" and is a "big, influential regional nation," wants to expand military, technical and industrial ties with Moscow. Iran is also seeking Russia's consultations on the "security of the region."
Calling the security situation in the region and the entire world "turbulent" and characterized by a "lack of stability" with different countries playing "their own role," especially Washington which wants to "destabilize the region," Dehghan stressed that Iran wants to purchase "defensive" weapons from Russia.
"The most important thing is to raise the level of our security [both] qualitatively and quantitatively, so that we could insure protection against possible attacks of our enemies," Dehghan said.
The Iranian defense chief also stressed that his country's defense doctrine "rules out" any aggression against other countries. "We believe that improving our defense will lead to stability in the region," he said.
With regards to arms contracts with Russia, Dehghan said that Iran is seeking to improve its defense system with the "the best quality and those that can be used most efficiently."
At the same time, the minister stressed that many countries have realized that Iran is moving toward "security arrangements" and is "not making a move," or has ever had a program aimed at developing nuclear weapons.
On Monday, Dehghan arrived in Moscow for a two-day visit to discuss defense cooperation and arms contracts with senior Russian officials. On Tuesday Dehghan met with President Vladimir Putin and also held talks with his Russian counterpart Sergey Shoigu.
"We believe that the implementation of bilateral projects will largely depend on the effectiveness of Russia's and Iran's measures to combat international terrorism," Shoigu said. "We seek to make Russian-Iranian cooperation in this field long-term and multidimensional. Our countries face common challenges and threats in the region, which we can only withstand together."
Shoigu said that the agreement on military cooperation signed in Tehran in January 2015 established the legal basis for closer relations between the Russian and Iranian defense ministries.
While details of the potential arms sales are yet to be revealed, Kommersant Daily reported citing unnamed sources that Iran plans to purchase weapons worth more than $8 billion.
READ MORE: Iran to buy more Russian weapons, foster cooperation – Khamenei aide
According to reports, Iran is seeking to buy Russian Su-30 and Yak-130 jets; the Mi-8 and the Mil Mi-17 helicopters; the K-300P Bastion-P Russian mobile coastal defence missile system equipped with Yakhont anti-ship missiles, in addition to diesel-electric submarines and other military equipment.
There are also reports that Iran is interested in purchasing T-90 tanks. Tehran, could also seek Russian expertise in repairing Iran's fleet of the Mikoyan MiG-29s, Sukhoi Su-24MKs and submarines.
Dehghan's visit to the Russian capital comes a month after Iran received billions of dollars worth of sanctions relief when a nuclear deal between Iran and world powers went into effect.