Sarkozy probed over 'illegal financing' of 2012 presidential campaign
Published time: 17 Feb, 2016 01:23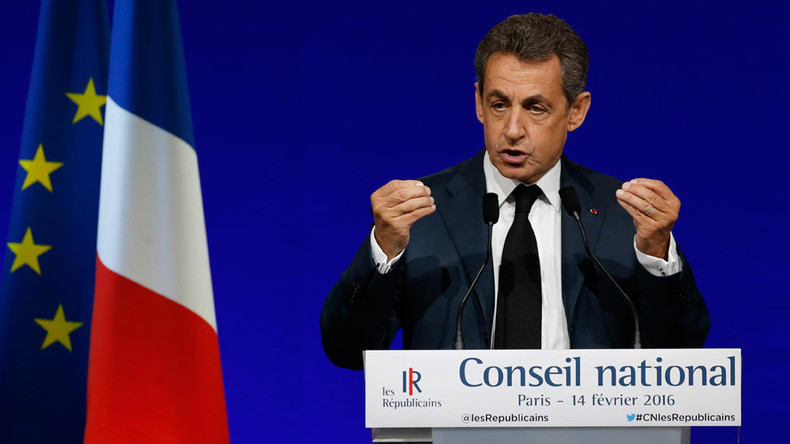 Former French President Nicolas Sarkozy, who was previously probed for corruption, is now under investigation for "suspected illegal financing" of his 2012 election campaign. The matter could potentially set back his presidential ambitions for 2017.
Sarkozy, 61, who led France for one term from 2007 to 2012, was questioned for nearly 12 hours by magistrates at the High Court of Paris' financial prosecutor's office. He was then informed that he had been placed under formal investigation over "suspected illegal financing of an election campaign for a candidate, who went beyond the legal limit for electoral spending" as a part of the so-called the Bygmalion scandal.
According to the prosecution, Bygmalion, the PR company involved in Sarkozy's campaign in 2012, allegedly charged 18.5m euros ($21 million) Sarkozy's right-wing party – called the UMP at the time and then renamed The Republicans. This technically meant exceeding the spending limit of 22.5 million euros ($25 million).
However, Sarkozy has repeatedly denied knowledge of the overspending, claiming that he was not involved in his campaign's finance and had not heard of Bygmalion until "a long time after" the 2012 campaign.
"I would like to say to those listening that I have never betrayed their trust. I have never committed an act against the principles of the Republic or the rule of law," he said in a 2014 interview with TF1 and Europe1 radio.
Yet, Sarkozy's explanation contradicts a testimony of his campaign manager, William Lambert, who told the police that he informed the former president of a note from the accountant pointing a ceiling overrun risk and prohibiting any additional expense.
Earlier, Sarkozy put the blame for false invoices on Jean-Francois Cope, who led the UMP party shortly. Cope has recently been declared to be a witness in the case, also denies any knowledge of the false invoices.
So far, thirteen people have been investigated and indicted for fraud, including four senior figures in Sarkozy's 2012 campaign and four former Bygmalion executives.
READ MORE: Sarkozy's phone 'tapped' over Libya cash claims
Sarkozy's lawyer Thierry Herzog has reportedly told reporters that he would appeal the magistrates' decision.
"I can say that I'm satisfied that the law in large part has been kept to and there was nothing linking President Nicolas Sarkozy to the Bygmalion case," Herzog said, stressing that in the worst case scenario Sarcozy would face a maximum penalty of 3,700 euros (about $4,100) fine. "It is only about exceeding the amount of campaign spending," he said.
Having briefly left politics after losing the 2012 election to the acting president, Francois Holland, Sarkozy made a comeback just two years later. His return has been marred by several legal battles, though. In the summer of 2014 Sarkozy was placed under formal investigation on suspicion of influence peddling and other crimes.
Sarkozy's current investigation has been described as "a prelude" to a possible trial even though it does not automatically mean prosecution. Yet, it does add to his previous corruption scandals and could potentially hinder his plans to run for the presidency next year.