Turkey shells Kurdish forces in Syria for 4th successive day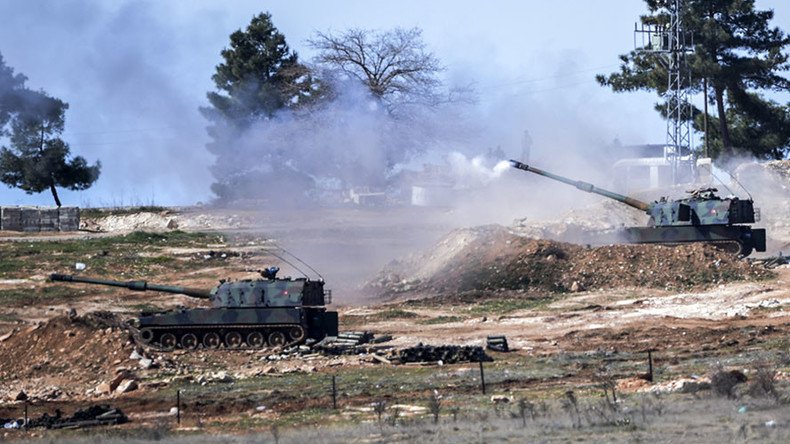 Turkey has shelled Syrian Kurdish forces in northern Syria for the fourth day in a row as Ankara tries to stop the YPG from claiming the town of Azaz, which is just 8km from the Turkish border.
Turkish artillery units in the southeastern province of Kilis fired shells at Kurdish targets on Tuesday morning, in areas that were under the control of the Syrian Kurdish Democratic Union Party (PYD), Today's Zaman daily reports, citing the Dogan news agency. The sound of shelling could be heard from Kilis city center, just kilometers from the Syrian border.
A Turkish official said on Tuesday that Ankara will ask its coalition partners, including the US, to take part in a joint ground operation in Syria. "Turkey is not going to have a unilateral ground operation. We are asking coalition partners that there should be a ground operation. We are discussing this with allies," the official told reporters at a briefing in Istanbul, as cited by Reuters.
"We want a ground operation. If there is a consensus, Turkey will take part. Without a ground operation, it is impossible to stop this war."
Turkish Prime Minister Ahmed Davutoglu said on Monday Ankara will not allow the town of Azaz in northern Syria to fall to the YPG forces.
"YPG elements were forced away from around Azaz. If they approach again they will see the harshest reaction. We will not allow Azaz to fall," Davutoglu told reporters on his plane bound for Ukraine, Reuters reported.
He said the Turkish military would render Syria's Menagh airbase "unusable" if YPG forces do not retreat from the area, which they previously captured from Islamist militants. He warned the YPG not to move east of its Afrin region or west of the Euphrates River.
Turkey regards the YPG militia as a hostile insurgent force and is worried about the Syrian Kurds seizing more territory along the Turkish-Syrian border.
The United Nations Security Council will discuss Turkey's shelling of Kurdish targets in Syria on Tuesday following a request from Russia. Moscow is backing the Kurdish militia fighters by offering them air support as they battle anti-government forces and Islamic State.
"It's an absolutely unacceptable situation – what's going on there on the Turkish-Syrian border. Syria complained to the Security Council, and provided all the materials on this issue. We will definitely support raising this issue in the Security Council," Russian Foreign Ministry spokeswoman Maria Zakharova told RT on Monday.
"The international community and the global media is so concerned about the humanitarian situation in Syria, about accusing Russia of doing this or that and they paid no attention to what's going on just on the Turkish-Syrian border, what the Turks are doing and the humanitarian situation there - it's a disaster."
Washington and Paris have both called on Turkey to cease its massive artillery bombardment against Kurdish targets and de-escalate tensions on all sides.
"We are concerned about the situation north of Aleppo and are working to de-escalate tensions on all sides," State Department spokesman John Kirby said in a statement. "We have also seen reports of artillery fire from the Turkish side of the border and urged Turkey to cease such fire."
You can share this story on social media: