'Snowden Street' next? Beijing angered by US plan to name street outside embassy after dissident
Published time: 16 Feb, 2016 11:35
Edited time: 16 Feb, 2016 15:09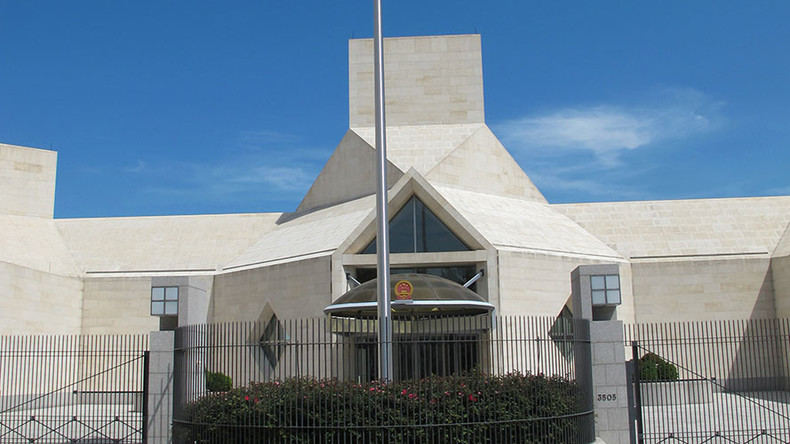 Beijing has labelled "provocative" the US Senate's approval to rename a plaza in front of the Chinese embassy in Washington after a jailed dissident. In response, critics have proposed that a passage in front of the US embassy in Beijing be renamed "Snowden Street."
Other suggestions on the possible new name of the Beijing street are "Long Live Black Slavery" and "Lewinsky" – both of which could sound just as painful to Washington.
Beijing was riled after the US Senate on Friday unanimously backed a plan to rename a plaza in front of the Chinese embassy in Washington after Liu Xiaobo, a dissident serving an 11-year sentence in China for inciting state subversion.

"It's provocative and counterproductive,"Chinese embassy spokesman Zhu Haiquan wrote in an emailed statement to Reuters.
"This latest move by Congress cannot change the fact that Liu jeopardized China's national security and was sentenced to jail," Chinese daily the Global Times wrote in its editorial. "Whether Liu feels proud of such turbulent embraces from the West or not, he has become a tool of the West against China."

Senate Bill 2451, proposed by Republican presidential candidate Senator Ted Cruz of Texas, first needs to clear the House of Representatives and must be signed by the US president before it can become law. If it gets the go-ahead from Barack Obama, "1 Liu Xiaobo Plaza" will become the official address of the Chinese embassy, whose current address is 3505 International Place. Cruz's office said the bill expresses solidarity with Chinese dissidents.
"I want to thank my Senate colleagues for passing this legislation and for standing together against Chinese oppression," Cruz tweeted on Friday.

He said the measure brought to mind the US decision to rename the street in front of the Soviet embassy in honor of the famous dissident Andrey Sakharov in 1984, during the height of the Cold War.
A White House spokesman told Reuters that Obama's senior advisers would recommend that he veto the bill, however: "While we continue to impress upon China the imperative of respecting human rights and releasing Liu Xiaobo, as well as other political prisoners, we do not believe Senator Cruz's ploy to rename a street in Washington, DC is an effective way to achieve either goal."