Ukrainian far-right fighters hold Nazi-inspired torch march in Odessa to commemorate slain friends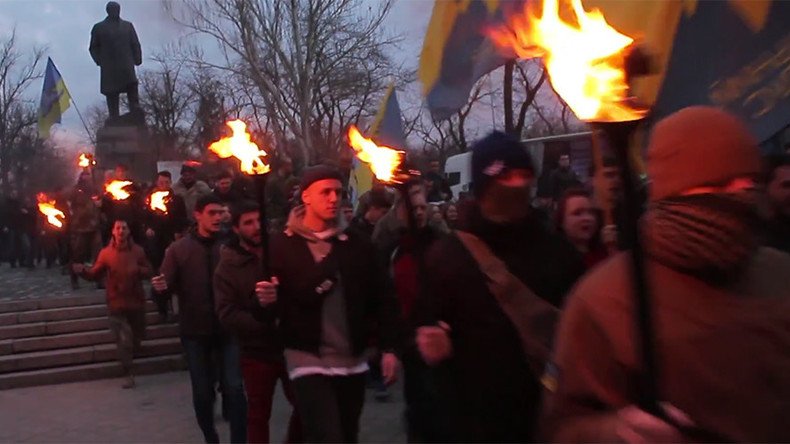 Members of the notorious Azov unit of the Ukrainian police, which sports many far-right zealots in its ranks, held a Nazi-style torch rally in the southern city of Odessa to commemorate the anniversary of the deaths of three fellow fighters.
Some 200 people participated in the event Sunday, including an Azov fighter and relatives of the three killed soldiers. Vyacheslav Kirillov, Nikolay Troitsky and Aleksandr Kutusaki were reportedly killed on February 15, 2015, as Ukrainian forces clashed with rebels for control over the village of Shirokino.
The protesters marched through the streets of Odessa, holding portraits of the three slain soldiers and torches, the Azov flag with the Wolfsangel rune of the Nazi storm divisions – and a large banner proclaiming them as "worthy descendants of glorious ancestors."
They chanted violent, nationalist slogans including "Knife the Moskals (Russians)!", "One language, one nation, one country," and "Heroes don't die, enemies die."
READ MORE: Ukrainian nationalists celebrate birthday of Nazi collaborator Bandera with torch-lit marches
The Azov battalion is one of the volunteer militia units that the post-coup Ukrainian government incorporated into a newly-formed National Guard, a heavily armed police force. Many of its officers and soldiers have voiced support for neo-Nazi and white supremacist ideology. Dozens of foreign extremists were in the ranks of the unit at the height of its fighting days.
You can share this story on social media: