Civilians reported killed in Syria as Turkey shells Kurdish position for 2nd day (VIDEO)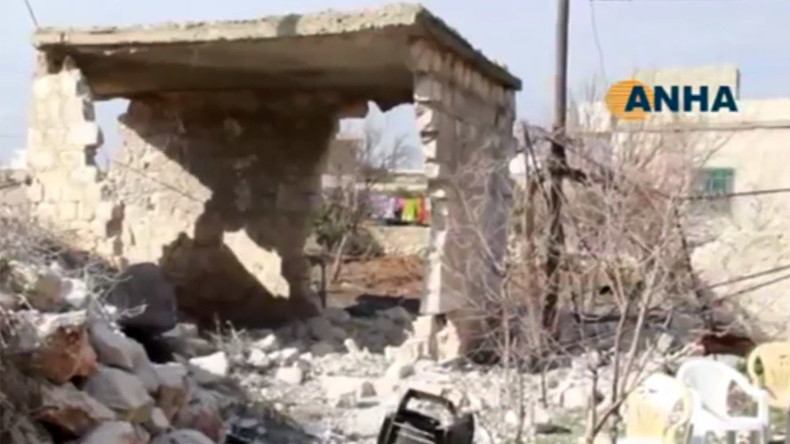 At least two civilians were reportedly killed and several more injured in the village of Maryamayn in northern Syria, as the Turkish army shelled Kurdish militia positions in Aleppo province for the second day in a row on Sunday.
READ MORE: US, France urge Turkey to stop shelling Kurds in northern Syria
A video released by the Syrian Kurdish news agency ANHA and obtained by Ruptly shows damaged buildings and people rushing to take care of the wounded in the village of Maryamayn near the town of Afrin after reportedly undergoing a Turkish artillery attack.
Ruptly reported that at least two civilians had been killed and several injured.
Turkish military sources told Anadolu Agency that the shelling continued on Sunday, destroying several positions of YPG – the military wing of the Kurdish Democratic Union (PYD). The militias reportedly suffered a number of casualties, the sources added.
READ MORE: 5 reasons to believe Turkey wants no peace in Syria
Turkish Prime Minister Ahmet Davutoglu told German Chancellor Angela Merkel by phone on Sunday that Turkey's military will continue to respond to attacks by Kurdish YPG militia in northern Syria, sources in Davutoglu's office told Reuters.
Washington and Paris have already called on Turkey to cease its shelling of Kurdish targets in Syria.
Turkish armed forces began artillery fire on Saturday, targeting Syrian army and Kurd positions in northern Syria in what Turkish military officials described as a retaliation strike. The shelling targeted the Menagh military air base and the nearby village of Maranaz, where "many civilians were wounded," local journalist Barzan Iso told RT.
Damascus condemned Turkey for shelling Syrian territory, describing the act as direct support for "terrorist" groups. The Syrian government also sent a letter to the UN demanding that the UN Security council "take responsibility for international peace and security by putting an end to the crimes committed by the Turkish regime."
READ MORE 'Turkey wants to stop Kurds liberating northern Syria from ISIS' - Kurdish analyst
You can share this story on social media: