Lavrov urges constitutional reform in Ukraine at 'Normandy-4' meeting in Munich
Published time: 13 Feb, 2016 14:11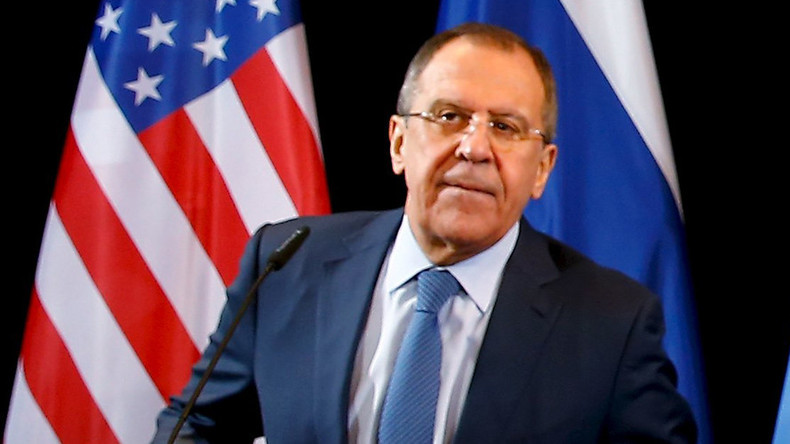 Russian Foreign Minister Sergey Lavrov emphasized the need for constitutional reform in Ukraine, and has urged Kiev to carry it out at the so-called "Normandy Four" meeting on the sidelines of the Munich Security Conference.
"A constitutional reform is indispensable for Donbass to achieve its permanent status, and must also lead to the appropriate legislation – and not just for three years, but on a permanent basis," Lavrov told reporters on Saturday, following a meeting of the foreign ministers from France, Germany, Russia and Ukraine.
"Following on from this, a discussion on amnesty, as well as the modality of the local elections, must take place – something that Kiev systematically avoids."
Joining Lavrov at the negotiating table were the German and Ukrainian foreign ministers. Their French counterpart Laurent Fabius, who resigned this week to take up a new post in President Francois Hollande's administration, was unable to attend.
READ MORE: Munich Security Conference report: Europe at odds amid 'boundless crises'
Germany's Frank-Walter Steinmeier agreed on the need for a common strategy on the upcoming elections, adding that there were still points that needed to be ironed out, but declining to say what they were.
"I hope that all who occupy responsible positions in Kiev and Moscow, it is clear that we no longer have eternity to realize what was agreed in Minsk," the German FM said. "We must not cease our efforts to push the parties to the conflict to take further steps."
Steinmeier and others, including the US, were reminded by Lavrov earlier that Kiev does not view the self-proclaimed Donetsk and Lugansk People's Republics as equal partners in the negotiations. The Russian official reiterated: "It is indeed humorous that those were the very people signing the Minsk agreements in the first place; therefore, their legitimacy as parties to the conflict is beyond question."
At the briefing, Lavrov also stated that "transgressions are being observed on both sides" security-wise, and that "the important part is that no one doubts the importance of the ceasefire agreement reached, nor the agreements regarding the pullback of heavy weapons."
The FM further informed Kiev of Russia's refusal to accept the kind of arrangement where, despite prior agreement, Russian specialists are not participating in the work of the center on security coordination. This, apparently, is due to the fact that "Russian soldiers would somehow pass messages on to the Donbass opposition," Lavrov added, saying that such a position is "completely counterproductive and takes its roots in ideological posturing when Kiev won't consider Russian representatives as its partners."
READ MORE: Russia-NATO relations have fallen to new Cold War level – Russian PM
The next meeting of the Normandy Four has been scheduled to take place in March in Paris, Ukrainian Foreign Minister Pavel Klimkin said. Like Lavrov, he agreed the current talks were more of a "preamble" to the ones coming up, due to the French FM Fabius's absence.