US beginning to understand need for military cooperation with Russia in Syria – Lavrov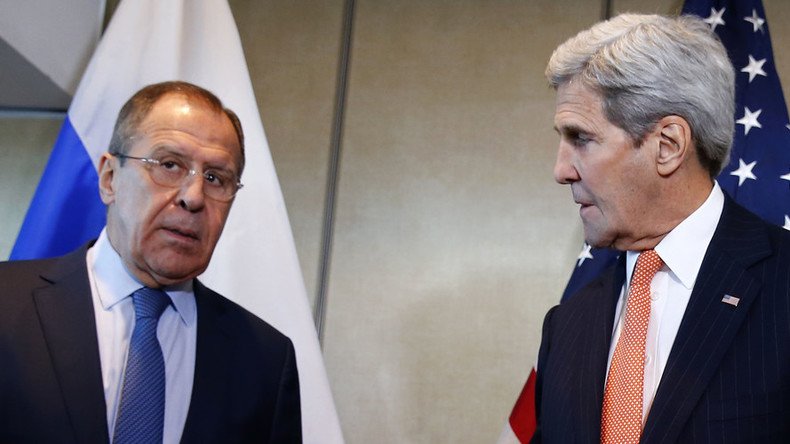 The US has finally begun to understand that it needs to cooperate with Russia militarily if a solution to the crisis in Syria is to be found, Russian Foreign Minister Sergey Lavrov said on the sidelines of the Munich Security Conference.
For the hostilities in Syria to finally come to an end, "there is a need for quick response mechanisms and cooperation between servicemen 'on the ground' – both on humanitarian issues and matters regarding a ceasefire," Lavrov said.
"Unfortunately, the US has shied away from military cooperation [with Russia], with the exception of deconfliction issues. Now, I believe they understand that in order to move forward in resolving the Syrian crisis military contacts can no longer be avoided," he added.

The FM urged the members of the International Syrian Support Group (ISSG) – which comprises the US, Russia, and the United Nations – to fulfill the agreements reached in Munich on Thursday.

"Now, it is vital to implement what has been agreed. Sometimes we reach some agreements but our partners, as a matter of fact, are not very much willing to implement them," he said.

"I hope this time the situation will be different," Lavrov added.
READ MORE: Russia makes proposals for Syria ceasefire, awaits reaction from US - Lavrov
ISSG has worked out an ambitious plan to end hostilities in Syria with verifiable results within a week, revive the Geneva-3 peace talks, and immediately begin delivering humanitarian aid to civilians.

Lavrov expressed hope that an agreement on military cooperation with Washington will lead to the establishment of a "truly joint front against terrorism," which has been advocated by Moscow for a long time.
The minister has previously stressed that the Russian air campaign against the Islamic State (IS, Daesh, formerly ISIS/ISIL) and Jabhat al-Nusra terror groups in Syria will continue, regardless of the ceasefire.

"It is stated in our documents – and we talked about it – that the ceasefire will not include Islamic State, Jabhat al-Nusra, and other affiliated organizations that have been recognized as terrorist by the UN Security Council. That is why our Aerospace Defense Forces will carry on with their operation against these organizations," he explained.

The US also hailed the Munich agreement as "an important step" in bringing the Syrian conflict to an end, but White House spokesman Eric Schultz stressed that "the work is far from over."

"In the coming days, we will be looking for actions, not words, to demonstrate that all parties are prepared to honor their commitments," Schultz said.
The working group on the ceasefire in Syria, which will be chaired by Russia and the US, is scheduled to meet in Geneva, Switzerland next week, Russian Deputy Foreign Minister Gennady Gatilov told TASS.
READ MORE: Russian PM warns US, Saudis against starting 'permanent war' with ground intervention in Syria
The stalled talks between the Syrian government and the opposition should resume "as soon as possible," though so far no date has been fixed for the restart, UN Special Envoy for Syria Staffan de Mistura said.
Meanwhile, the newly-established Task Force on Humanitarian Access in Syria held its first meeting on Friday, stating that it must be granted immediate access to the civilian populations in the country's besieged areas.

"We have already submitted requests for access to the parties surrounding besieged areas… We expect to get such access without delay," Jan Egeland, Senior Advisor to the UN Special Envoy for Syria, said.

The Task Force is due to hold its second meeting next week to "assess the progress made, and maintain the pressure for incremental and unimpeded aid deliveries," he added.
The Syrian civil war, in which the government of President Bashar Assad has been battling various opposition groups, including jihadists from Islamic State and Jabhat al-Nusra, has been raging since March of 2011, taking the lives of over 250,000 people, according to UN estimations.
READ MORE: ISIS used chemical weapons, may have more - CIA chief
The US-led coalition began bombing IS in Syria in 2014 after the terror group captured large swathes of land in the war-torn nation and neighboring Iraq.

Russia launched its air campaign against terror targets in Syria in September of 2015 at the official request of President Bashar Assad.
You can share this story on social media: