Merkel's migrant policy 'unsustainable,' says French PM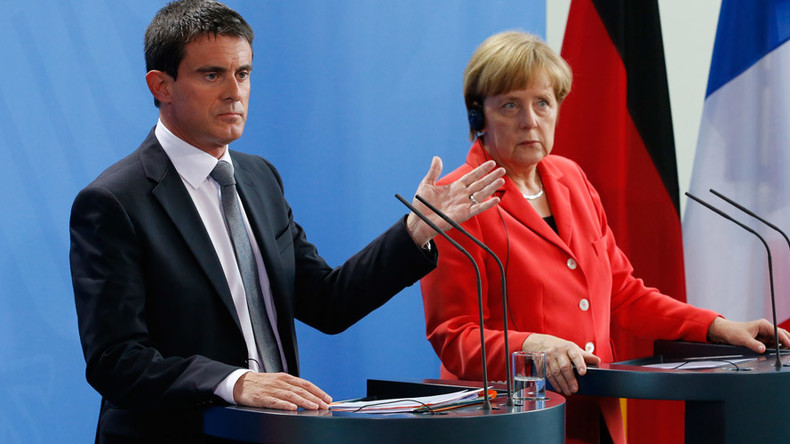 The foreign policy of Chancellor Angela Merkel towards asylum seekers is "unsustainable in the long term" and Europe is simply not able to take in all the refugees arriving from Syria, Iraq or African countries, French Prime Minister Manuel Valls has said.
"This [Merkel's] policy which is justified temporarily, is unsustainable in the long term," Valls told German media, as cited by AFP.
The French PM said he believes Germany is not the only country that is unable to take all those willing to seek asylum there.
"We have to say this clearly: Europe cannot take in all migrants from Syria, Iraq or Africa. It has to regain control over its borders, over its migration or asylum policies," said Valls, in an interview which is to be published in full by German Funke media group on Saturday.
Merkel has recently come under fire for her welcoming policy toward refugees, who have recently been arriving in Germany in unprecedented numbers. However, she claims the country can cope with the 1.1 million that arrived in 2015, and potentially more in 2016.
READ MORE: 40% of Germans want Merkel to quit over refugee policy – poll
The recent sexual assaults against women by refugees across Germany is one issue that has contributed to growing discontent over the refugee influx. More than 60 women filed complaints of sexual harassment on New Year's Eve in Cologne. Similar cases have been reported in other German cities such as Berlin, Frankfurt and Stuttgart. Police were accused of covering up the attacks, which seems to have added to public anger.
READ MORE: 81% of Germans say refugee crisis 'out of control' under Merkel govt – poll
According to a recent poll conducted by ARD Deutschlandtrend, more than four in five Germans believe Merkel's government isn't controlling the refugee crisis.
Similarly, an Insa survey for Focus magazine which polled 2,047 German citizens showed that 40 percent of Germans are not satisfied with the chancellor's refugee policy and want her to resign
You can share this story on social media: