81% of Germans say refugee crisis 'out of control' under Merkel govt – poll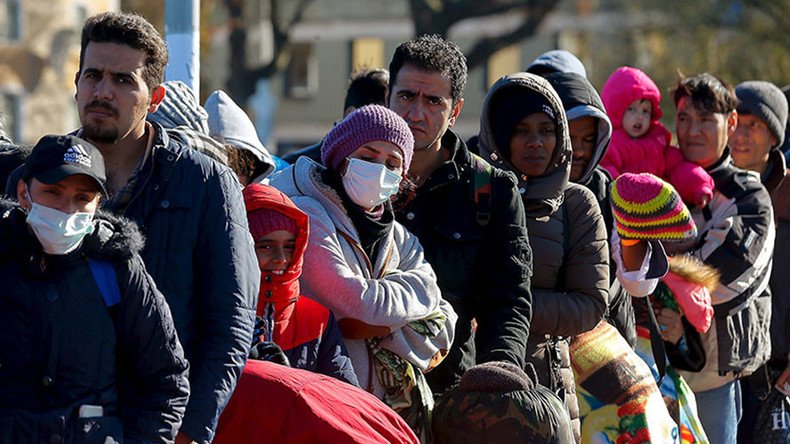 More than four in five Germans believe Chancellor Angela Merkel's government isn't controlling the refugee crisis, and welcome tougher measures to deal with it, a poll by ARD Deutschlandtrend has suggested.
The vast majority of the country's citizens disagree with Merkel's refugee policy, according to the poll conducted last weekend. Asked whether "the federal government has the refugee situation under control," 81 percent of Germans answered "No," with just 18 percent saying "Yes."
Those answering "No" also included members of Merkel's Christian Social Union, with a notable 67 percent of the party's voters unhappy with the chancellor's policies.
Voter support for Merkel's government dropped from 57 percent in July 2015 to 38 percent on February 2016 – "the worst estimate during the current government's term," the pollster said.
Germany's right-wing Alternative for Germany (AfD) which advocates an anti-immigrant agenda became the third most influential party. It was projected to get 12 percent of the vote if the federal election were held this Sunday.
Most Germans also think more restrictive measures towards refugees and asylum seekers must follow.
A remarkable 88 percent believe the government should curb benefits for refugees who fail or are unwilling to integrate into German society, with 10 percent saying "No" – a measure previously announced by Germany's Labor Minister Andrea Nahles.
Introducing tougher border control on the EU's external frontiers and a more detailed processing of asylum seeker applications, debated over the past months in Germany, was also widely supported. Some 63 percent said "Yes" to install the EU's external border, while 33 percent were opposed.
Consequently, 53 percent of Germans said border controls within EU countries – seen as threatening the Schengen border-free zone by many in Brussels – should be introduced as well.
According to 77 percent of respondents Europe must also set up refugee centers at the EU's external borders to process migrants' applications and send back ineligible asylum seekers.
The poll came alongside the so-called "Asylum package II" (Asylpaket II) – the newest set of measures by the German government designed to toughen refugee policies. The package includes putting limits on the number of asylum seekers admitted to Europe, and also an attempt to integrate those who have already reached Germany. Refugees will have to take integration courses, costing €10 a month.
Merkel's government has come under fire for the chancellor's "welcoming policy" towards refugees, who have recently arrived in Germany in overwhelming numbers. Although she says Germany can cope with the 1.1 million who have come in 2015 – and potentially more in 2016 – nearly 40 percent of Germans believe Merkel should step down over her refugee policy, according to January's Insa survey for Focus magazine.
You can share this story on social media: