Love in a warzone: Syrian couple's Homs wedding photoshoot divides opinion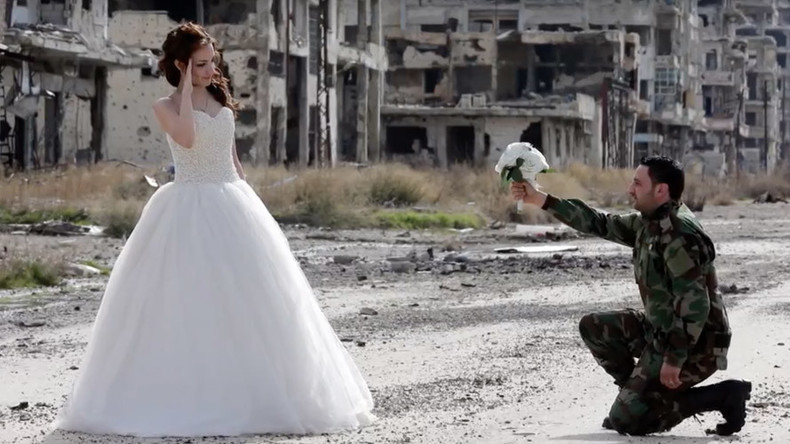 Photos of newlyweds posing lovingly together among the rubble of the war-torn Syrian city of Homs are starkly emphasizing the city's extreme devastation from the ongoing Syrian civil war.
The dramatic photos create a strong juxtaposition between life and death, love and war.
Syrian photographer Jafar Meray captured the photos "to show that life is stronger than death", according to Joseph Eid, a photographer with AFP who accompanied Meray on the shoot.
The young couple in the photos are 18-year-old Nada Merhi and Hassan Youssef, 27, a Syrian army soldier.
However, while many have described the photos as "stunning," foes of the Syrian government have criticized the images, suggesting they could be used as pro-government propaganda.
"I'm from the city of Homs and now I'm a refugee in Austria, because of this military man, and his followers who destroyed cities and accused us but terrorism just because we demanded it freedom [sic], and now they take pictures because the cities have become for them, and all the Syrian people, a terrorist, and the government just as good. This is so bad," Abdalhanan Alabrash wrote on Facebook.
Others questioned the decision to hold the photoshoot under such circumstances.
READ MORE: Class of Endurance: Yemen students graduation pic at building bombed by Saudis
You can share this story on social media: