Class of Endurance: Yemen students graduation pic at building bombed by Saudis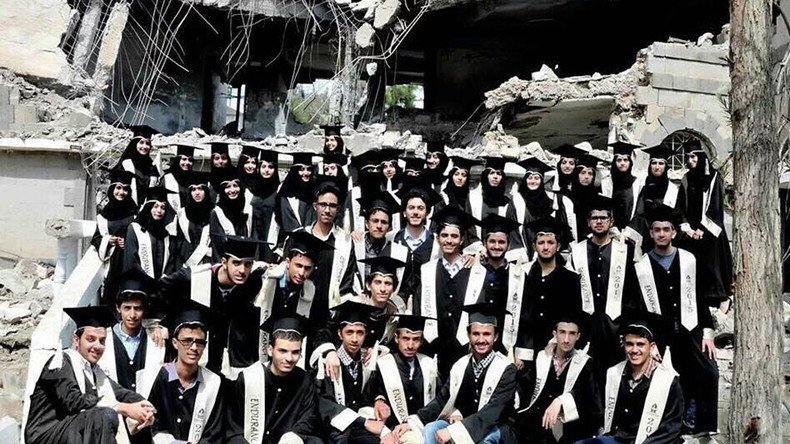 Graduating high school students at the Yemen Modern School in the country's capital city, Sanaa, took a defiant photo to mark the end of their time in high school and depict what they went through to complete their education in a war-torn country.
The photo was taken outside the bombed office of former president Saleh's son in Sanaa.

The image signifies "resilience and endurance"

Students missed more than four months of school due to airstrikes

Exams took place amidst ongoing bombings
The students posed in their graduation gowns and caps outside a building nearby their school that had been reduced to rubble. Sashes that read "endurance" on one side and "2015" on the other were draped over their shoulders.
The building was the former office of Ahmed Ali Saleh, Yemen's Ambassador to the United Arab Emirates and eldest son of former Yemeni president Ali Abdullah Saleh. It was bombed by Saudi-led airstrikes last June.
The location was chosen as it was the nearest place to the school that the students believed was safe to go to amidst ongoing airstrikes, Salma Al-Dailami, one of the graduates, told RT.com.
The photo went viral after being shared online and garnered the students' messages of respect and support.
The students' message was one of hope and resilience as they pressed on to finish their studies amid the civil war.
"The message we wanted to deliver was despite of everything we were still standing," Al-Dailami said.
She explained they chose to call their class the "Class of Endurance" because it explains what they went through.
The students were forced to leave school for over four months as a result of the airstrikes.
They returned to prepare for their exams while bombing continued and struggled under difficult conditions.
"We had no electricity which resulted with us studying under the faint light of candles and torches because there was no petrol to start up the generators," Al-Dailami said.
"We had to go and take the exams under all the bombs, and the physical and emotional pressure," she said.
Al-Dailami and her classmates are now trying to find their way in life and are looking forward to college.
She is hoping to study architecture.
"We have to stay optimistic and keep on going, so they cannot break our spirit," she said.
The Saudi-led coalition launched its anti-Houthi campaign in March 2015, after the anti-government rebels started capturing large parts of Yemen, including Saana, and the country's second-largest city, the port of Aden.
The UN Security Council says more than 21 million people in Yemen need help, or about 80 percent of the population. More than 5,800 people have been killed in Yemen since March, about half of them civilians, according to the UN, as cited by AFP.
READ MORE:5 killed in missile strike on Medicins Sans Frontieres clinic in Yemen
You can share this story on social media: