ISIS execution video shows 4yo 'Jihadi Junior' blowing up 'British spies'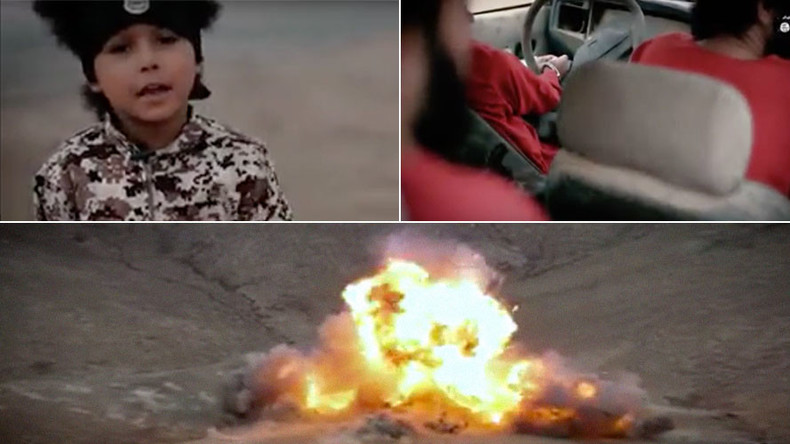 Islamic State has released a new clip showing a British boy, nicknamed 'Jihadi Junior' and thought to be aged four, blowing up three prisoners. The kid with an ISIS headband is seen pressing a button on a remote control device seconds before a car with alleged "spies" inside explodes.
In the video, believed to have been shot by Islamic State (IS, formerly ISIS/ISIL) in their de facto capital of Raqqa, "Jihadi Junior," dressed in camouflage clothing, is seen pointing to the "non-believers." The men inside the car, wearing handcuffs and orange jumpsuits, obediently confess their "crimes" to the camera shortly before their vehicle explodes.

The boy is accompanied by a young masked man, who makes a threat to British Prime Minister David Cameron. Speaking in an English accent, the man, whose face is covered, vows that his fighters will not be defeated. He accuses the Conservative Party leader of sending armed groups in Syria to fight the jihadists, adding that the killing of three "spies" will be revenge.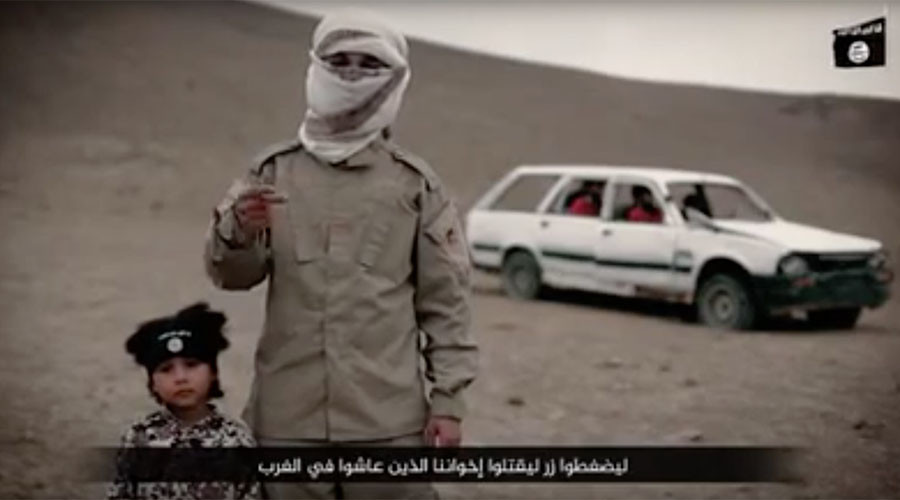 The man places his hand on the boy's head during his speech. After all is said, the boy appears to give the go-ahead signal, with a close-up of his hand on the detonator.
The video climaxes with a car exploding and the boy shouting "Allahu Akbar" next to the wreckage.
Haras Rafiq, of counter-extremism think-tank the Quilliam Foundation, told Good Morning Britain: "It's important that we as parents and experts get hold of these children as quickly as possible to deprogram them because they're suffering. This is a form of abuse, as far as I'm concerned.''
The latest video comes a month after "Jihadi Junior" first appeared in an IS propaganda film. In early January, a young boy with a British accent threatened the UK with new atrocities in a chilling video showing the execution of five men accused of being "British spies."

READ MORE: ISIS child soldier beheads captive, threatens 'US soldiers' in new gruesome video
Last month, Sunday Dare, a man who claims to be the boy's grandfather, told UK tabloid The Sun that his daughter Grace ran away with her baby, Isa, in 2012 and married a Swedish ISIS fighter in Syria. "He is just a small boy, he doesn't know any different," Dare told The Sun.
Last week another video released by Islamic State showed the ruthless beheading of an alleged Syrian "moderate" opposition fighter by a young boy of African descent. Before the execution took place, the boy threatened, with a noticeable accent, to destroy those rebels in Syria who are funded and supported by the US.
Islamic State is teaching boys as young as three jihadist ideology, how to handling firearms, beheading techniques and how to be a suicide bomber, a journalist who risked his life to visit a children's militant camp in Afghanistan recently told RT. Afghan children appear to be the latest to be recruited by Islamic State terrorists, who have implemented similar brainwashing programs in Syria and Iraq.
"Imagine children aged from three to nine or 12 years old. How they should know about jihad? So, they're teaching them what's jihad; how should they do jihad; the jihadists should be against whom," Najibullah Quraishi said, adding that all the children knew all the names of the weapons and they all knew how to use them.
You can share this story on social media: