ISIS child soldier beheads captive, threatens 'US soldiers' in new gruesome video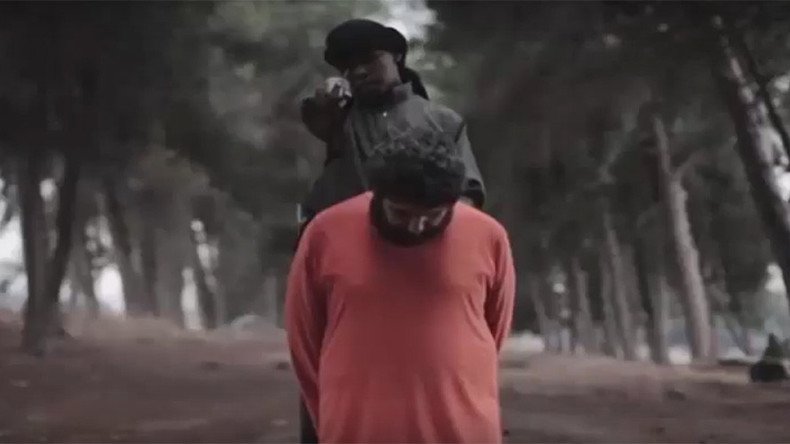 A new video rereleased by Islamic State shows the ruthless beheading of an alleged Syrian "moderate" opposition fighter by a young boy of African descent, who threatens the same fate for any American or US-backed soldier who sets boot on the ground.
In the latest gruesome propaganda video, allegedly filmed by Islamic State (IS, formerly ISIS/ISIL) terrorists, an English-speaking child, identified by the Terror Monitor group as a son of Jihadist IS fighter Abu Darda, executes someone the video claims to be Muhammad Tabsho, a religious official from the Syrian rebel group the Levant Front.
The 18-minute clip shows a confession of Tabsho before he is dragged by the boy and forced to kneel on the road in an undisclosed location, believed to be somewhere outside Aleppo.
Before the execution takes place, the boy threatens, with a noticeable accent, to destroy those rebels in Syria who are funded and supported by the US. The Levant Front, formed in December 2014, is an Aleppo-based rebel faction fighting against Assad's forces.
The boy also says that he wishes and more than ready to meet US troops on the ground, before decapitating his victim with a knife and placing the severed head on his back.
READ MORE: New ISIS video features 'last words' of Paris attackers, threats to UK
While the video has yet to be verified, the use of children in ISIS propaganda videos has become the group's signature. In March 2015, IS released a video showing a child soldier shooting dead an Israeli Arab after he "confessed" to spying.
In early January, a young boy with a British accent threatened the UK with new atrocities in a chilling video showing the execution of five men accused of being "British spies."
LISTEN MORE:
You can share this story on social media: