Syrian Kurdistan mission opens in Moscow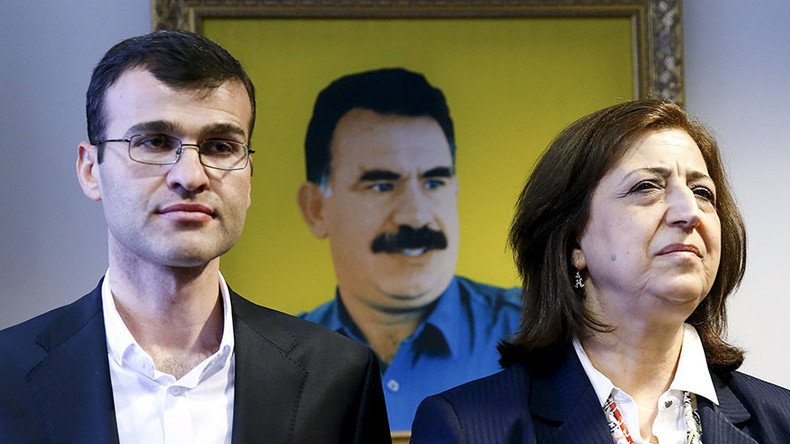 An NGO representative office for Syrian Kurdistan has opened in Moscow. It was created to represent the interests of Syrian Kurds and develop bilateral relations with Russia, the mission's head said.
"Our aim is to strengthen and develop relations with the Russian side, including its civil organizations, political parties, academics," a member of the Kurdish Democratic Union Party (PYD), Abd Salam Muhammad Ali, who will head the mission, told RT in an exclusive interview.
He explained that Syrian Kurds are facing a number of problems that they would like to discuss with the international community.
"We naturally would like to take part in Geneva-3 [talks on Syria], but there are a number of regional forces led by Turkey who have stood up against it, threatening that they would quit should Kurds, the PYD party, or other democratic self-ruling representatives participate in the talks in Geneva," Abd Salam Muhammad Ali said.
The PYD is the political wing of the Kurdish People's Protection Units (YPG), which took full control of the Syrian town of Kobani last year, making it a powerful symbol of Kurdish resistance to Islamic State (IS, formerly ISIS/ISIL). US officials have recently traveled to northern Syria to meet with YPG members, prompting a strong reaction from Turkey's president. Branding both the PYD and the YPG as "terrorist organizations," Recep Tayyip Erdogan told Washington it had to choose between Turkey and, as he put it, the "terrorists" as US partners.
Before the US officials' visit, the PYD was excluded from peace talks in Geneva after Ankara threatened to boycott the talks if Kurdish party members were invited.
READ MORE: No terrorists at the table? Turkey 'threatens to withdraw' from Syria talks over Syrian Kurds
The Moscow mission head pointed out that other states, such as Russia and the US, understand the Kurds' essential role in fighting international terror organizations in the region, "with no real results being possible to achieve" without them, while warning that "we have a clear position: if we are not participating in Geneva talks, then all decisions made at the negotiations will not be recognized and observed by us."
Turkey, on the other hand, is aiding the jihadists in the region, Abd Salam Muhammad Ali claimed, saying that the Kurds have information that Turkish secret services are operating in Syria disguised as local civilians. He also said that Ankara "helps Islamic State and does not take any action to prevent the flow of militants from around the world, letting them arrive to Syria through Turkey."
At the same time, some international players have a "strange" attitude towards the Syrian Kurds, another of the Kurdish mission's representatives told RT.
"Everyone understands that Kurds are actively involved in all processes on the Syrian territory. And the unwillingness to include Kurdish representatives in Geneva-3 talks demonstrates that Syrian Kurdistan is perceived as a force that is only allowed to take part in military actions," Farkhat Patiev, a member of Kurdistan's national congress, said.
Pointing out that the Syrian Kurds have been militarily cooperating with the US since the battle for the town of Kobani, where the US-led coalition supported them from the air, Patiev stressed that it is also important to develop and broaden political dialogue.
All forces fighting against international terrorism, no matter if they are Russian, American, or European, should cooperate in defeating the common terror threat, he added.
READ MORE: Russia has offered US 'concrete plan' to end Syrian crisis – Lavrov
"The PYD party has supported and welcomed Russian campaign in Syria from its very first days. We will stand by any country that will help the Syrian people fight terrorists, radical groups, and bandits such as never seen before," Abd Salam Muhammad Ali said. Furthermore, the fight against Islamic State, Al Nusra, and other radical groups should intensify in Syria, the mission head added, asserting that the Kurds are ready to cooperate with Russia on that.
You can share this story on social media: