Terrorists' supply routes from Turkey cut off during army offensive in northern Syria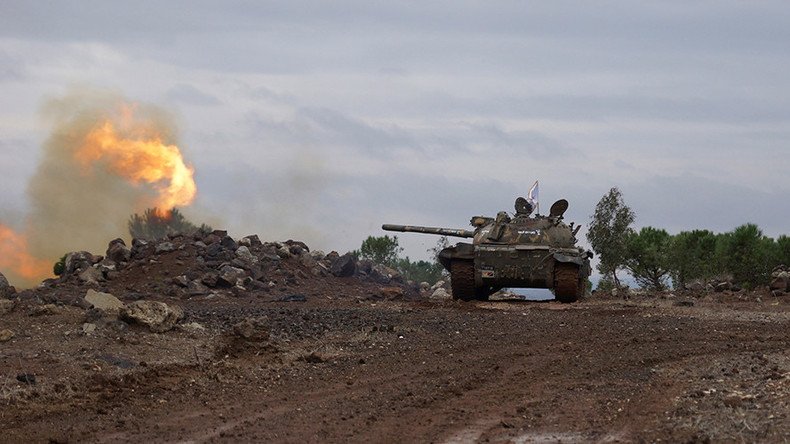 The Syrian Army aided by the Russian Air Force has cut off terrorist supply routes from Turkey in and around Aleppo, one of the last bastions for the jihadists in the north of the country.
Syrian government troops and volunteer fighting battalions have ended a four-year blockade and secured the towns of Nubl and Al-Zahraa, where some 70,000 civilians were kept under siege. The anti-terrorist offensive not only helped liberate civilians, but also severed the militants' supply lines.
"Liberation of Nubl and Al-Zahraa means cutting off supply routes from Turkey. The supply has completely stopped. Jihadists in Aleppo are now encircled and isolated. They have minimal freedom for maneuvers. As the army continues its offensive, the militants are faced with a choice: either to surrender or die," an army commander in northern Aleppo told RT.
READ MORE: 'Me or terrorists?' Furious Erdogan tells US to choose between Turkey and Syrian Kurds
Al Nusra fighters in the area are on the run, RT Arabic correspondent on the ground reported, while the army continued its offensive close to the Turkish border.
"Total annihilation of [militants'] logistic and military communications with Turkey is the main objective of operations in Aleppo province," the commander said, adding that the government and militia troops have recently managed to free more towns, including Mayer and Ratyan in the province. Mine pickers had much to do in the area, the commander told RT, saying that while retreating, Al Nusra terrorists mined many buildings in the towns.
Mayer "was one of the main strongholds of Al Nusra," one of the volunteer fighters on the ground told RT. "From here jihadists shelled Nubl and Al-Zahraa with their gas canisters and also fired mortars and rockets at the civilian population," he said, adding that now the area has been secured and terrorist strongholds destroyed with the help of the Russian Air Force.
The army is now entering the final stage of its operations in the north of Aleppo, in order to "expand space for a breakthrough" to more terrorist-occupied villages, and also advance the offensive to neighboring provinces, retired Major General Yahya Al-Tahir told RT.
READ MORE: UAE joins chorus of Arab monarchies ready to invade Syria


You can share this story on social media: