Goat released on bail after trespassing on judge's property in India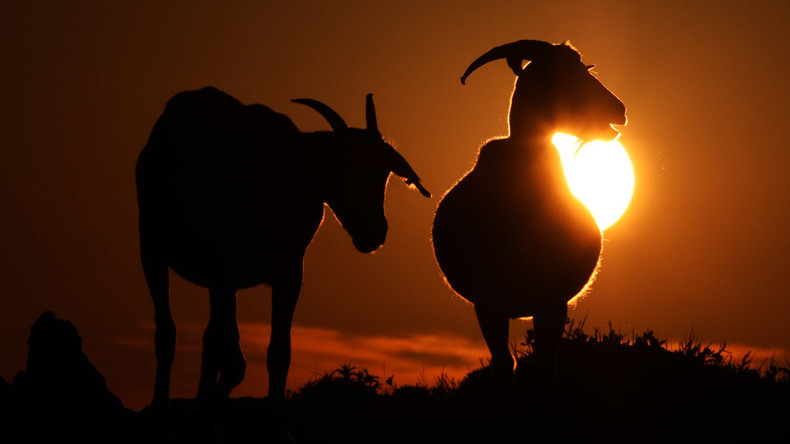 A goat arrested for trespassing on a judge's garden in the central Indian state of Chhattisgarh, has been released on bail. His owner, identified as Abdul Hassan, remained in police custody for two days.
The goat, whose name has not been released, was charged alongside its owner in the district of Korea – about 350km from the state capital of Raipur – after a police complaint from the district magistrate, Hemant Ratre, reported The Hindu.
The animal was released from police custody – for the time being at least – while the unlucky Abdul Hasan, 40, was remanded in custody for two days. If convicted, he faces a sentence of between two and seven years in prison and a fine.
Local authorities said this was not the goat's first time to trespass on the judge's property, and that the owner had received several warning from both the judge and the police.
"The judge's bungalow has an iron gate and the goat used to jump over it and enter," said Assistant Sub Inspector R.P. Srivastava, according to NDTV.com.
The arrest has been blasted online for being "ridiculous".
"The 'arrest' of a goat is ridiculous. Chhattisgarh police has made fun of themselves by doing so," Congress Party leader Shailesh Nitin Trivedi told The Hindu.
"Those accused in rape cases are moving freely," he added.
In August last year, a Christian nun was allegedly gang-raped at a medicare centre in Raipur, leading to protests in the state capital. The police, however, ruled out rape and claimed that it was a case of "sexual assault".
Meanwhile in October last year, several women were allegedly gang-raped, assaulted and robbed by security personnel in a remote Maoist-dominated area of Chhattisgarh.
No arrests were made, The Hindustan Times reported in December, despite the use of new provisions implemented after the rape of a young student in Delhi in 2012. The amended law provides for prosecution of rape crime by armed forces.
The goat is certainly not the first animal to be arrested in India.
A parrot was detained in Chandrapur, Maharashtra last year, after an old woman filed a complaint against it for swearing at her and making obscene remarks.
READ MORE: 'World's highest battleground': Indian soldier rescued from icy tomb on Siachen Glacier (VIDEO)
In May 2015, a pigeon was arrested in the Punjab village of Manwal on suspicion of being a Pakistani spy, because a note in Urdu was found taped to its foot.
You can share this story on social media: