Indian soldier rescued alive from icy tomb after being buried by avalanche for 6 days (VIDEO)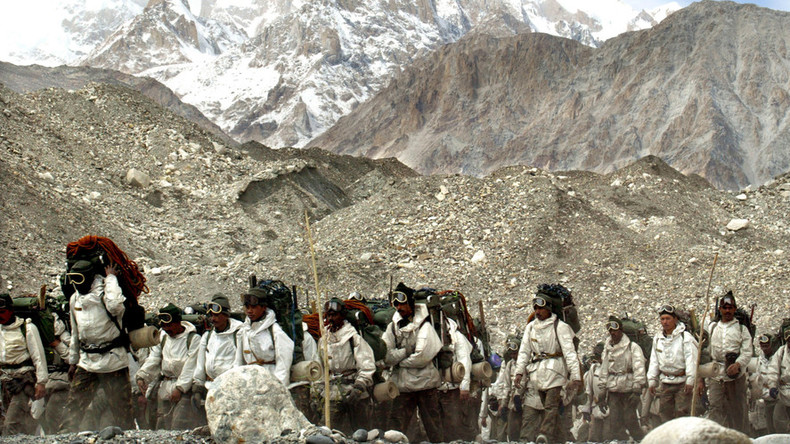 An Indian soldier, buried six days ago when an avalanche hit one of the world's most unforgiving war zones, has been rescued from the snow alive.
India and Pakistan are fighting a very cold war in the Himalaya Mountain range, some 20,000ft above sea level, in what has been labelled the world's highest battleground.
For three decades, the warring countries have been in dispute over the ownership of what is a very inhospitable environment - the Siachen Glacier.
Temperatures at the military outpost to the east of the Karakoram mountains can plummet to a bitter -60 degrees Celsius (-76 Fahrenheit).
Simply put, soldiers deployed there are more likely to die from the weather than at the hands of their enemy.
Last Wednesday, an avalanche swept down a slope of 19,600ft, burying 10 Jawan soldiers under 25ft of ice and snow.
The soldiers were reportedly from the Indian Army's Madras Regiment and were hit by the avalanche as they patrolled the border region with Pakistan, according to the Times of India.
All 10 were feared dead until a recovery operation located Lance Naik Hanaman Thappa, entombed alive in what was nearly his icy grave.
Footage of the "miraculous" rescue shows Thappa's colleagues desperately shovelling through the snow to reach him. He is set to be transferred from the area and his condition is described as critical.
"It was a miraculous rescue, all efforts are being made to evacuate Lance Naik Hanaman Thappa to the RR hospital in the morning," said Lt General D S Hooda, Northern Army Commander, report Indian Express.
He added that five bodies have been taken from the scene, with four of them formally identified.
Such was the lack of hope in finding anyone alive after the avalanche, Indian Prime Minister Narendra Modi had soon paid tribute to the military personnel "who gave their lives to the nation".
In the last 30 years, 846 soldiers have died in the region due to the almost uninhabitable conditions on the towering peaks of the glacier, reports India Today.
You can share this story on social media: