Foampocalypse: Raging Storm Imogen blasts French coastal town (VIDEO)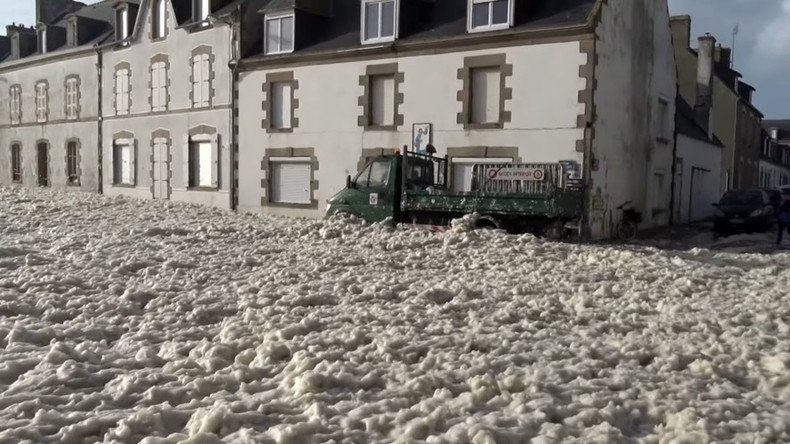 Like scenes from an old-school horror flick, a freaky blanket of foam has emerged menacingly from the Atlantic Ocean, eating up stretches of road in a coastal town in Brittany.
Strong winds have sent heaps of thick foam over the flood walls of Saint Guenole Port and onto the streets of Penmarch.
The creamy foam phenomenon, which resembles a wave of porridge, is the result of wind whipping up dead algae, proteins, sea salt, and pollution into a frothy brew, the National Oceanic and Atmospheric Administration explains.
An orange weather warning - the second most severe level - has been issued for much of the western of France by Meteo France in recent days. The deluge of suds has engulfed roadways, burying signs and lampposts in the fishing town.
Video from the area shows the terrifying blizzard sweeping over coastal defences and covering everything in its path.
It's not the first time the moussey deluge has emerged from the sea.
In footage filmed back in March 2014, locals standing on the shoreline appear to be swallowed whole by incoming waves of sea foam.
READ MORE: Stunning stormy timelapse foodtage spanning 2 years goes viral (VIDEO)
You can share this story on social media: