Antique condom roadshow: Collector brings 86yo prophylactic to TV show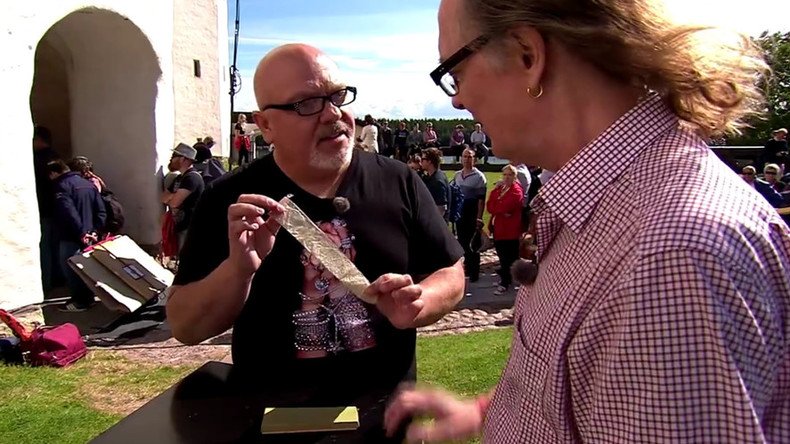 A figure of $120 was not exactly the price a prospective seller had in mind when he brought an 80-year-old box of birth control to a Swedish version of "Antiques Roadshow."
The exhibitor told presenter Joakim Bengtsson that the treasure had been found under his grandmother's bed in the 1980s, but that his grandfather had purchased the archaic condoms decades earlier.
"Grandad bought them. He died in 1939, so these are from the 1930s," the man told Bengtsson, The Local reported.

"Aren't they a bit spacious?" the presenter joked.
Är dom inte lite rymliga? Joakim fnissar åt kondomens storlek. Missa inte Antikrundan ikväll 20.00 SVT1

Posted by Antikrundan on Thursday, February 4, 2016
Considering that prior to the 19th century a popular material for making condoms had been sheep's intestines, the proffered prophylactics made from tightly woven silk represented a great advance, Bengtsson explained.

READ MORE: True colors! Condom that changes color on contact with STIs invented by teens

"I don't think we have valued condoms in Antikrundan previously" Bengtsson said. "They're just perfect these things, so there must be some value in them."

Bengtsson valued the condoms at a thousand kronor ($120) and said that it was "great fun that you came here with them."

The world's oldest existing condom dates back to 1640, and was also uncovered in Sweden. It can be found in an Austrian museum.
World's Oldest Condom Dating To 1640 Is Displayed in Austria..Gues Wer It Was Found..At A Place Called Lund In Sweden ! pic.twitter.com/Yzg1NdDb

— Dimaag Ke Kide !!! (@DimagiKide) April 19, 2012
Made from pig's intestine, such a condom was reusable, with a user's manual advising that it should be washed in warm milk to ward off sexually transmitted diseases.
You can share this story on social media: