Somalia plane bomber planned to down Turkish flight with his 'laptop bomb' – reports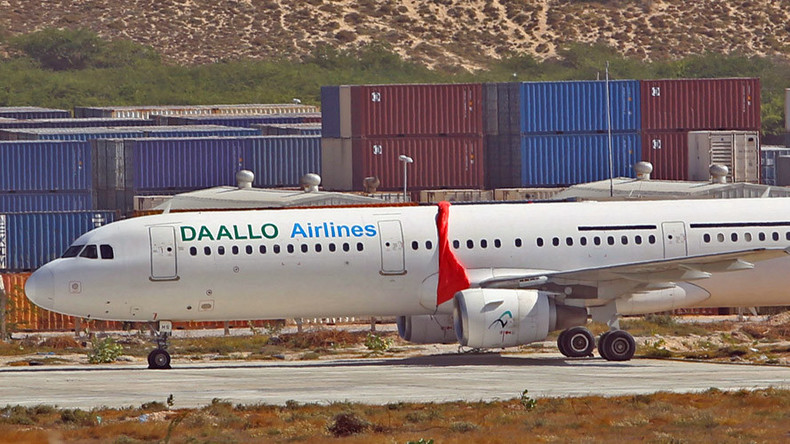 A suspected suicide bomber on a Daallo Airlines flight was originally meant to be aboard a Turkish Airlines plane, Reuters cited Daallo's CEO Mohamed Yassin as saying. A separate report claimed the blast had come from explosives hidden inside a laptop.
The majority of the passengers on the bombed Airbus A321 flight were scheduled to fly with Turkish Airlines, but were redirected after the Turkish carrier cancelled the flight due to bad weather.
"That particular passenger boarded the aircraft on a Turkish Airlines boarding pass and was on the list for the Turkish Airlines manifest," Yassin told Reuters.
Flight D3159 was traveling from Somalia to Djibouti when passengers heard a loud bang before seeing flames.
There were a total of 70 stranded Turkish Airlines passengers that needed to be flown to Djibouti. The Daallo Airlines plane was carrying 74 passengers at the time of the explosion.
Turkish Airlines spokesman Yahya Ustun also confirmed that its flight had been cancelled last week due to bad weather.
The bomber was reportedly blown out of the plane through a one-meter-wide hole created by the blast. The flight was forced to make an emergency landing in Mogadishu, Somalia just minutes after take-off.
The bomb was hidden in a laptop computer, Reuters reported on Monday citing US officials. According to the source, the attacker, who was captured on CCTV footage receiving the laptop bomb at the airport, was somehow connected to Daallo Airlines or airport personnel.
Somali authorities have released footage showing a passenger being handed the laptop that reportedly contained the bomb.
More than 20 people have been arrested in connection with the incident so far, BBC reported quoting a government spokesperson.
US officials also revealed that they are looking into the Islamist militant group al Shabaab, which has links to Al Qaeda, suggesting that it may have been behind the attack.
READ MORE: At least 20 killed in attack on beach restaurant in Somali capital
The explosion comes after Al-Shabaab suicide bombers and gunmen attacked a popular Mogadishu beach-side restaurant hotel on January 21, killing 20 people.
A week before that attack, the group had claimed responsibility for killing dozens of African Union peacekeepers during a raid on a base in southwestern Somalia.
Al-Shabaab has been blamed for several major terrorist attacks throughout the region, such as the April 2015 assault on Garissa University in Kenya, which killed 148 students. The terror group claims it wants to overthrow the Western-backed Somali government.
You can share this story on social media: