Facebook #FAIL: India blocks 'free' internet plan over net neutrality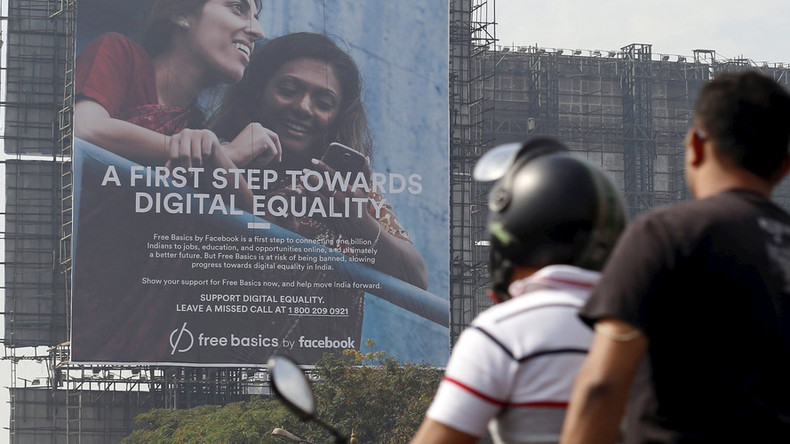 India's telecom regulator blocked Facebook's Free Basics internet plan as part of a Monday ruling in favor of net neutrality.
"No service provider shall offer or charge discriminatory tariffs for data services on the basis of content," the Telecom Regulatory Authority of India (TRAI).
The TRAI had been investigating whether some content should be prioritized over others and suspended Free Basics a few weeks ago due to concerns over net neutrality violations.
It issued a 'Prohibition of Discriminatory Tariffs for Data Services Regulations' Monday, which places an immediate ban on differential pricing for data.
Facebook's "free" internet has been marketed as a way to bring the internet to virtually everyone, but it offers only a limited number of websites and has been accused of threatening internet neutrality due to the social media company's restrictions on the "free" internet it provides.
Free Basics was introduced in some Indian states, allowing users free access to Facebook, its messaging app, and some other sites like Wikipedia and the BBC for free, but paid access for the rest of the internet.
A Facebook spokesperson said, "Our goal with Free Basics is to bring more people online with an open, non-exclusive, and free platform… we will continue our efforts to eliminate barriers and give the unconnected an easier path to the internet and the opportunities it brings."
Net neutrality activists view Free Basics as a way for Facebook to monetize and control internet access in developing countries.
Facebook founder Mark Zuckerberg claims it is "not sustainable to offer the whole internet for free".
Facebook's Free Basics program was also shut down in Egypt last month.
The World Wide Web Foundation welcomed the decision and said: "The message is clear: We can't create a two-tier Internet - one for the haves, and one for the have-nots."
You can share this story on social media: