Literally, a pyramid scheme: Giza thieves caught selling ancient stones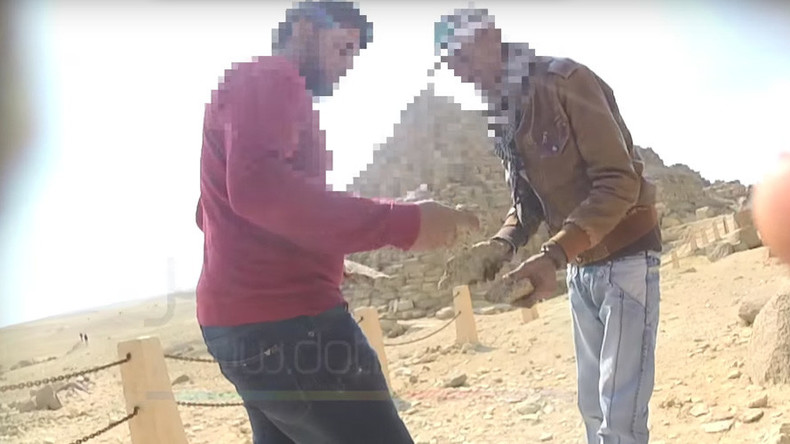 Egyptian police have arrested three men who were literally running a 'pyramid scheme', after undercover journalists captured them on video selling stones from the oldest 'Seven Wonders of the Ancient World'.
Reports had been circulating that eager tourists could easily purchase "bits" of the 4,500-year-old Giza Pyramids from locals, who were breaking off pieces of stone, but these claims had been refuted by the Ministry of Antiquities.
Equipped with hidden cameras, undercover journalists from a local website DotMsr filmed their encounters with people hustling at the pyramids.
They were offered stones for as little as 250 Egyptian pounds ($32).
"Here, this is from the Pyramid itself," one of the sellers can be heard saying on camera, EgyptianStreets.com reports.
The same man is also heard bragging that he has sold stones to tourists for us as much as €500 ($558).
READ MORE: Space particles inside Egyptian pyramids may hold key to their creation
The three men featured in the video were arrested on Saturday and have been charged with damaging and vandalizing antiquities, as well as fraud.
With DotMsr's video being viewed almost 680,000 times on Facebook and almost 60,000 times on YouTube, some have called for Egypt's Minister for Antiquities to be fired for allowing such antics.
You can share this story on social media: