Over 3,100 pregnant women in Colombia infected with Zika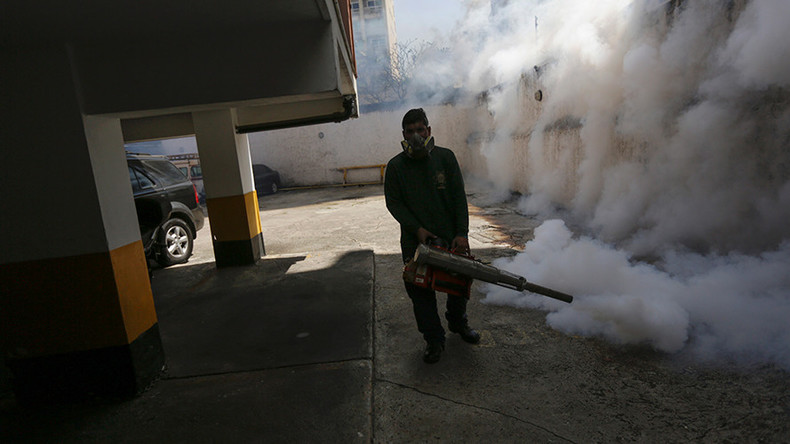 Zika virus is spreading like a bushfire across South America with Colombia announcing that it has registered more than 25,000 infected people nationwide with some 3,100 of them being pregnant women, whose fetuses risk developing microcephaly.
Overall, 3,177 of those 25,645 people infected with the virus in Colombia are pregnant, President Juan Manuel Santos announced Saturday.
READ MORE: Complex abortion debate emerges over Zika virus-infected fetuses
The Zika virus is spread to people through mosquito bites. However, a recent study suggests that it can also spread through sexual intercourse and saliva. The most common symptoms of Zika virus are disease are a fever, rash, joint pain, and conjunctivitis.
While most cases of the decease are hardly ever noticed, pregnant women fall into a special category of risk. If infected, their newborn children could be prone to microcephaly, a neurological disorder that results in abnormally small heads, leading to developmental issues and sometimes death. No remedies for the virus exist.
While noting that Zika-linked microcephaly cases have not been registered in Colombia, Santos warned that the number of Zika-infected people might rise over twenty fold in the near future.
"The projection is that we could end up having 600,000 cases," Santos said. The president also warned that up to 1,000 cases of Guillain-Barre syndrome cases could soon surface.
Some scientists have linked Guillain-Barre syndrome, a rare disorder in which the body's immune system attacks your nerves, to the Zika infection. On Friday, Colombia's health officials announced that three people died from the Zika virus, noting that patients developed the rare syndrome.
"We have confirmed and attributed three deaths to Zika," Martha Lucia Ospina, head of Colombia's National Health Institute, said. "In this case, the three deaths were preceded by Guillain-Barre syndrome."
To battle the outbreak, authorities are working on ways to tackle the mosquito population by fumigating. The government has urged women to delay pregnancy for six to eight months.
The World Health Organization declared the Zika virus a global public health emergency on Monday. The virus has spread to more than 30 countries since the outbreak began in northeastern Brazil last year.
You can share this story on social media: