French 'anti-airport carnival' dispersed with tear gas (VIDEO)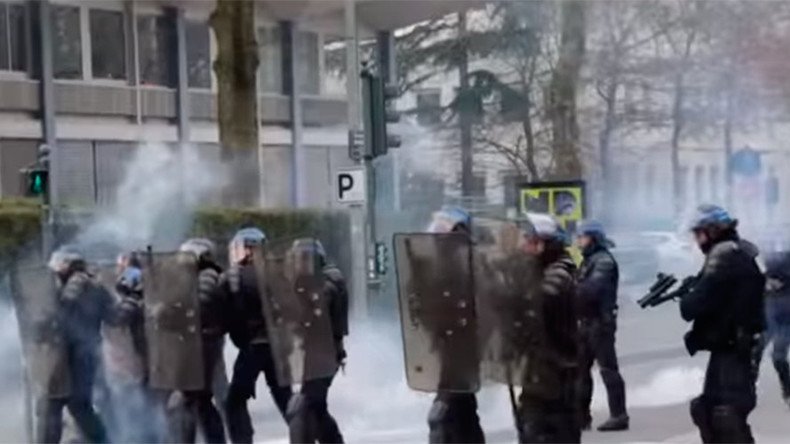 Police have used tear gas to disperse protesters in the French city of Rennes, after a crowd of around 1,000 people staged a "carnival" as part of a protest against a controversial airport construction project, which they claim ruins the environment.
What started as an "anti-airport carnival" in the capital of the region of Brittany soon turned into a form of protest where activists in fancy dress began pelting projectiles and flares at police. Prior to the organized event, city authorities issued an order prohibiting people from wearing or carry objects that resembled "weapons," AFP reports.
Wearing carnival masks, some looking like animals, the demonstrators marched with giant puppets towards the city hall and the provincial parliament with some of the "animals" representing the French Prime Minister Manuel Valls.
Accompanied by drums, they chanted "Vinci [Notre Dame des Landes airport project name], emerges, resistance and sabotage." Protesters argue that building a new international airport is a climate "crime" that kicks off farmers of their land and encourages carbon emissions from flights.
According to local police, prior to engaging the law enforcement officers, the "carnival" crowd created a large disturbance in the city, throwing eggs, paint and flour and breaking several windows in downtown commercial offices. Protesters were also tagging the buildings, in an event that was planned to proceed in a "festive" mood.
Police responded by firing canisters of tear gas at the crowd. It took law enforcement on the ground and helicopters flying overhead over two hours to disperse the "carnival" in the late afternoon. At least five people were arrested for "throwing projectiles at police."
READ MORE: 20,000 protest forceful evictions, block roads at Nantes airport construction site (VIDEO)
Protesters have been engaged in a 15-year legal battle to block construction of a major new airport on swampland. Approved in 2008, the €580 million ($647 million) project had been due to start in 2014 but was repeatedly delayed due to strong opposition from the environmentalists. The protest intensified last year after an announcement by regional authorities that the massive construction project would resume in 2016.
You can share this story on social media: