20,000 protest forceful evictions, block roads at Nantes airport construction site (VIDEO)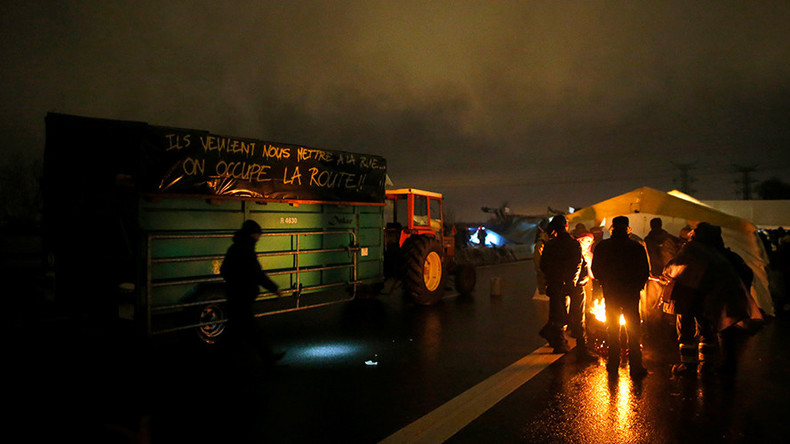 In a massive protest against controversial airport construction outside the western French city of Nantes, up to 20,000 demonstrators blocked roads, demanding the reversal of the city's plan to expand the air hub by forcefully evicting locals.
Halting traffic on the Nantes ring road using dozens of tractors and blocking access to the city's international airport, Nantes Atlantique, protesters rallied against legal proceedings to evict 11 families and four farmers from the planned construction site.
Protesters also claim that the €580 million ($633mn) project which has divided government officials, citizens and activists for years, will be detrimental to the environment and is a wasteful use of government funds.
Some agricultural organizations that gathered as part of the 20,000-strong crowd (according to organizers, whereas police estimate the number to have been 7,200) threatened to maintain an indefinite blockade of one of the main river crossings, the Chevire Bridge over the Loire.
In July, Paris announced that construction would resume at the highly controversial airport Notre-Dame-des-Landes after a series of clashes between the locals and the authorities in 2012 resulted in a temporary halt to construction.
Overall protesters have been battling for 15 years to save the 1,650 hectares (4,000 acres) of protected swampland outside the city, which is to be the site of the new airport.
Approved in 2008, the new airport is scheduled for opening next year and will replace the current Nantes Atlantique Airport that handles three million annual passengers. Developers say the new air hub will provide a major boost to the tourism economy in western France.
Saturday's demonstration was the biggest gathering in two years. The last major protest over the issue took resulted in clashes with police in February 2014. Saturday's blockade however proceeded peacefully.
You can share this story on social media: