Iraqi refugee raped 10yo boy in Austria, says it was 'sexual emergency'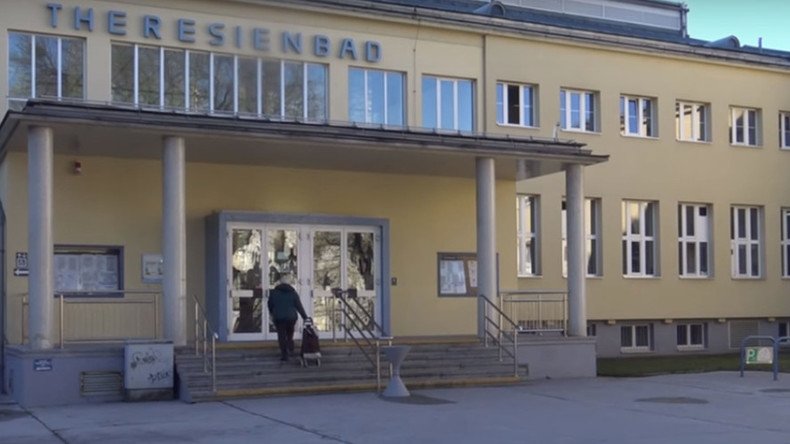 Austrian police have confirmed that an Iraqi refugee was arrested over the rape of a 10 year-old boy at a swimming pool in Vienna in December. He told police he did it due to a "sexual emergency," local media reported citing the interrogation record.
"A complaint was filed over the rape of a 10-year-old boy in the Theresienbad swimming pool. We determined the suspect is a 20-year old man, who lives in Vienna. He was arrested and later sent to the Josephstadt prison," Chief Inspector Roman Hahslinger told the Ruptly video new agency on Saturday.
Hahslinger added: "The suspect is an Iraqi citizen, who lives in Vienna and has refugee status."
The attack took place in a swimming pool cubicle on December 2. The man, whose name has not been disclosed, dragged a boy into the changing room and assaulted him. After the boy told a lifeguard what had happened, the police were immediately called. They managed to apprehend the attacker in the pool, who, to their amazement, instead of fleeing the crime scene, was having fun by jumping from a three-meter board, Die Heute reported.
The boy, who suffered severe internal injuries, was admitted to a children's hospital.
The perpetrator, who came to Austria via the Balkans on September 13, confessed to police he had acted because of a "sexual emergency." When asked if such actions were legal in his home country, he admitted he knew that "such acts were forbidden in any country of the world."
He also confessed he had made a "huge mistake," Die Standard reports, citing the interrogation record published by the Austrian Press Agency.
The state prosecutor charged the man, who remains in custody, with rape and grave sexual abuse of a minor, the body's spokeswoman Nina Bussek confirmed on Friday, the Kronen Zeitung newspaper reported.
"The topic of refugees certainly is occupying all at the moment, but people needn't be worried; Vienna is a safe city, nothing has changed about that yet," Hahslinger told Ruptly.
Austria has accepted the second highest number of refugees per capita so far in Europe. Only Sweden has taken in more. In January, Austrian Chancellor Werner Faymann announced a plan to introduce a cap on the number of asylum requests the country would approve in 2016, fixing the number of refugees at 37,500.
You can share this story on social media: