143 bodily harm offences, including 22 sexual assaults reported at Cologne Carnival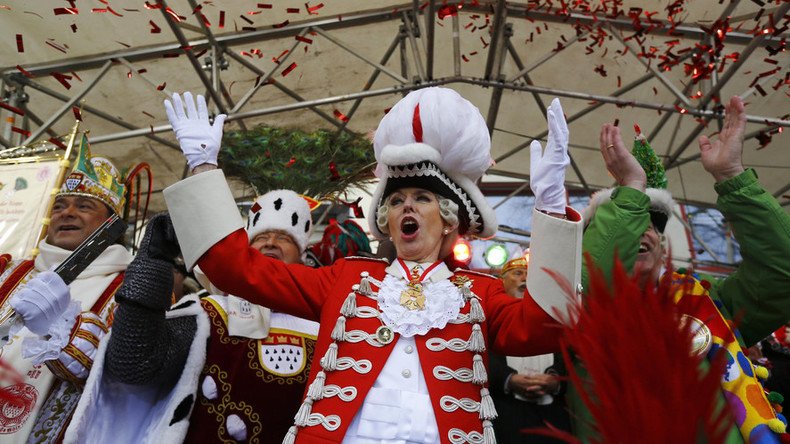 Despite heightened security, 143 incidents, including 22 sexual assaults have been reported during the first night of the annual Carnival in Cologne. Up to 2,000 police officers were on alert during the celebrations, twice the number deployed last year.
Of the 22 sexual assaults, two reported on Friday were called "serious," according to the DPA news agency. Among the two victims was a Belgian female journalist, who was groped while reporting. The second victim was attacked on her way home and apparently raped, police said. 11 policemen were slightly injured defending themselves.
In addition to incidents of bodily harm, 30 thefts were also reported at the festival.
The number of sexual offences more than doubled compared to the Carnival in 2015, police said. During last year's carnival only nine sex crimes were reported.
The rise in the number of sexual complaints might be attributed to the women's "willingness" to report incidents, Michael Temme Cologne's police director said. He explained the rise may have been influenced by the sexual assaults reported in Cologne at New Year's Eve, when hundreds of women were harassed.
"I don't want to play that down, but that shows that the willingness of women to report has changed," Michael Temme Cologne's police director said as quoted by Deutche Welle.
The sexual assaults in Cologne sparked wariness in Europe and resulted in even greater anti-migrant sentiment after it emerged that most suspects were men of Arab or North African origin. German Chancellor Angela Merkel has recently started to change her pro-refugee rhetoric and said that asylum seekers are expected to return home once conflicts in their homelands are resolved.
You can share this story on social media: