Industrial climber in Moscow survives fall from 8th floor after woman cuts his climbing rope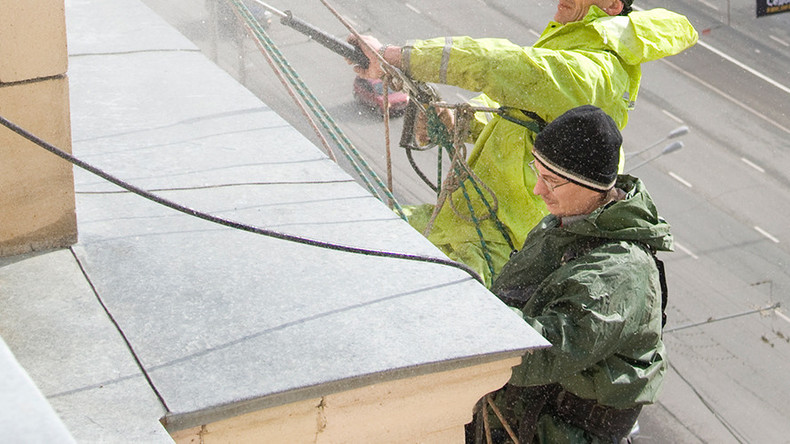 An industrial climber in the Russian capital managed to survive after a woman cut his climbing rope. He plummeted from the eighth floor and was close to "landing" when an additional safety rope "kicked in."
The 49-year-old woman reached out with a knife from her balcony and cut the climbing rope to which Maksim Merkushev was "attached," the Investigative Committee of Moscow region said. The incident occurred on January 31, but the details of the case were only made public on Friday.
Fortunately, the man managed to survive as he had an additional rope. The worker and the woman reportedly had an argument before the incident. The culprit allegedly complained the team of industrial climbers had damaged her TV antenna during repair works, so she warned Maksim she would cut his rope.
"When you are working with a perforator, a TV set may encounter problems and stop working. She came out, while I was working at her balcony and said, 'If you break it [the TV], you will have to repair it.' Then she began swearing and said if I didn't come down she would cut my ropes," Maksim told Lifenews.
One of his teammates heard the argument and gave Maksim an additional climbing rope.
"She didn't think it [the rope] would snap so fast. She wanted to scare me, and cut it a bit, so I would feel a jerk. But it turned out differently. She apologized the next day and was crying," Maksim told Vesti.fm.
"I was scared. I've never had this happen in my life. I didn't even realize what happened right away. First, I forgot about it, and then started thinking about it. It could have been worse," he added.
A criminal case has been launched into the incident.
The woman has been detained and is being accused of "attempted murder," the Investigative Committee said.
You can share this story on social media: