Ukraine plans stealth military draft as recruitment plummets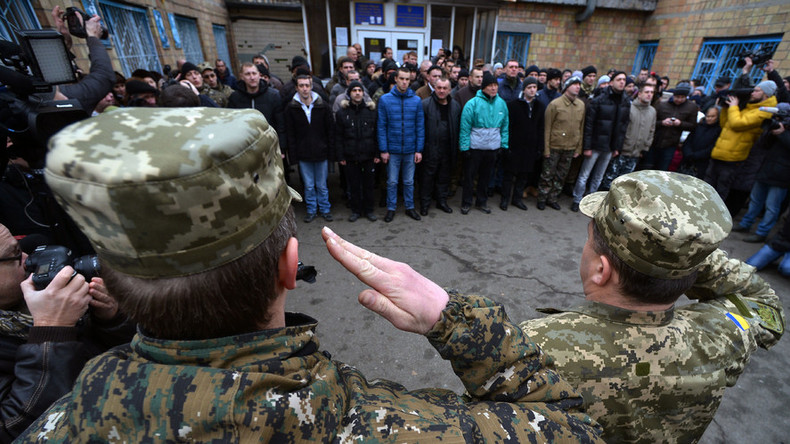 The president of Ukraine suggested an amendment that would allow him to start military mobilization without announcing it beforehand. The measure was proposed after only 60 percent of draftees were enlisted in the previous run.
Over the two years that have passed since the armed coup in Kiev dramatically changed Ukraine, the new government declared six waves of mobilization. It's a special kind of military draft separate from regular conscription that is used to respond to an emergency.
The draft was needed to boost military units sent to fight the rebellious eastern regions of Donetsk and Lugansk. Ukraine nearly doubled the strength of its army from the initial 130,000 to 232,000 in 2014 and wants to have 250,000 standing troops. 210,000 people were drafted overall, some of them already demobilized.
The war effort, however, became increasingly difficult to maintain. The initial surge of volunteers dwindled while the number of people who would rather risk prosecution for dodging the draft than put their necks on the line increased.
READ MORE: Ukrainian parliament passes law allowing army deserters to be shot
During the latest sixth wave in July-August 2015, the Ukrainian military managed to get just over 60 percent of the intended draftees, the Defense Ministry reported. There were 8.5 percent of volunteers among them.
The military complained that its officers often had problems with getting the summons to potential draftees, who moved to another address or simply refused to open their doors. Of those who did get their summons, over half chose to ignore it and run. The ministry said 26,800 men are now subject to prosecution for avoiding military service.
The legislative amendment proposed by President Petro Poroshenko on Thursday would make the seventh mobilization wave a bit easier for the military. It would allow him order mobilization without announcing it at least one month beforehand, as the law requires now. Actually, no publication would be required at all.
The measure is one of several similar bills currently floating in the Ukrainian parliament. Another one would require the border guard service, the election commission, the tax authorities and other government agencies to report any data on potential draftees – including minors who would become eligible years later – to the military.
The ministry so far has not detailed when the seventh wave of mobilization will start or how many would be drafted, but the Ukrainian media reported that before April some 40,000 troops would have to be replaced through mobilization.
The lack of enthusiasm among Ukrainians is understandable. Despite government officials' claims to the contrary, the Ukrainian Army continues to be in poor shape, suffering from a shortage of even basic supplies, disastrous discipline, low competence of soldiers and officers and a general lack of leadership. Non-combat casualties sustained in episodes of drunken brawls, road crashes, mishandling of firearms and similar causes are reported in the Ukrainian Army on weekly basis.
There is also a sense of unfairness of the draft as corruption in the military allows people with influence or money to simply bribe their way out of it. Rural residents make up a large portion of people mobilized and they have no means of dodging the service.
READ MORE: Ukrainian reporter 'charged with high treason' after calls to dodge draft
Speaking against the draft, however, can be quite a dangerous thing in Ukraine. Arguably the most outrageous example is the prosecution of journalist Ruslan Kotsaba, who was charged with high treason for campaigning against mobilization. He is currently being held in custody as his trial proceeds and is considered a prisoner of conscience by Amnesty International.
You can share this story on social media: