Gnarly El Niño churns up tasty waves, bummer that it's due to climate change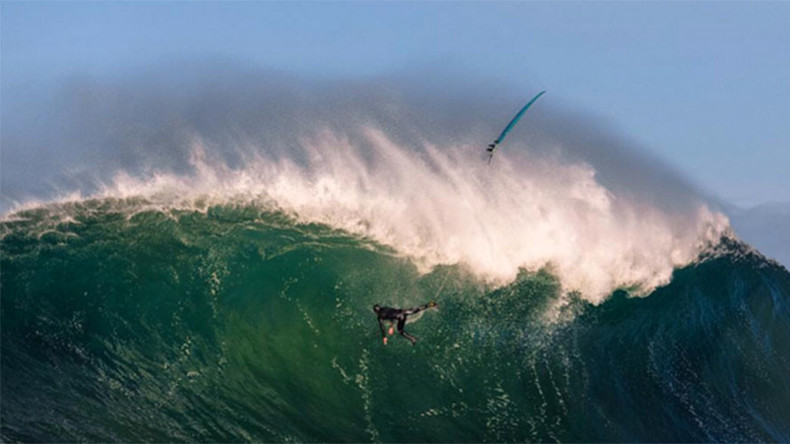 Greetings from Cali, surfer dudes. Let me tell you about these gnarly 40 footers at "Mavericks", the home of big wave surfing here in the US.
We have been stoked with the conditions, all thanks to our bra, El Niño. And even though his ferocity and increased frequency is caused by climate change, we're not going to let that bum us out.
The humongous waves in the chilly waters of Half Moon Bay have some dudes declaring this "the best day of the year", although that's hard to declare for sure since this year has already produced more awesome waves than most of us have seen in a lifetime.
Check out these unlucky dudes who had a few hairy moments and highlight-reel-worthy wipeouts.
Stay smiling bra. The best surfer in the water is the one having fun.
This would've been the ideal weekend for the big televised competition Titans of Mavericks, but no go.
I guess they don't want to compete against the Super Bowl.
OK so back to that El Niño stuff. Let's get serious for a minute.
Yes, these monster storms could give us these kind of waves more often (rad), but it could also bring flooding and drought to regions of the Pacific (not rad).
In 2014, some science dudes found that greenhouse gases could give us an El Niño every ten years instead of 20.
This could lead to increased flooding in the western US, extreme droughts in Australia, and unusually cold, snowy winters in parts of Europe that rarely experience it.
But enough about that. For now let's just ride the wave of climate change and make the most of a bad situation.
Maybe Jeff Spicoli will take a break from exposing Mexican drug lords and join us in the water.
You can share this story on social media: