'Breeding ground for radicalization': Youth in Austrian refugee camp lack meaningful routine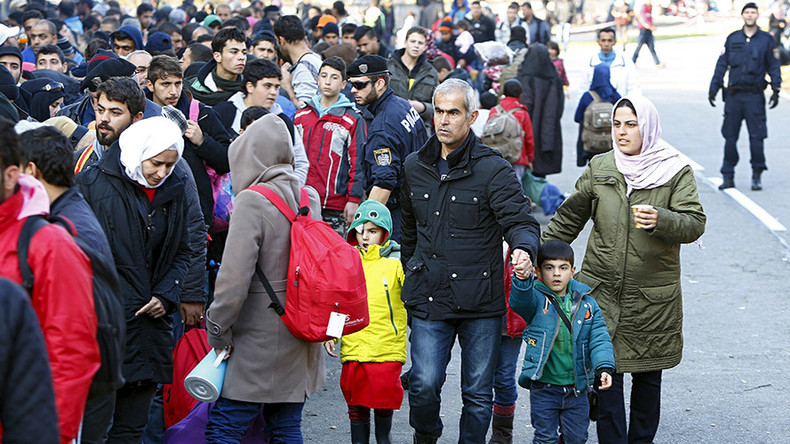 The Austrian refugee coordinator has warned that the notorious Traiskirchen migrant camp is becoming a "breeding ground" for radicalization of minors, after a new study on the living conditions there revealed that refugees are not being integrated into society.
The latest report by the Institute for Empirical Social Research (IFES) on behalf of the Austrian National Youth Council revealed that some 62 percent of 1,100 teenage boys housed in the refugee center in Lower Austria, were not attending schools or other forms of training. The boys involved in the study were mostly 16-19 years of age.
In fact, the 66 young migrants who were interviewed for the study said they have nothing better to do than just sit around and wait for nothing. IFES noted that only 49 percent tried to learn German by attending courses, while almost a quarter of them never bothered to learn the language at all.
"I have nothing to do, except for breakfast, lunch, dinner. Otherwise I sleep all the time, waiting for a decision [on asylum]," which can take months, one youth in the study noted, as cited by Breitbart News.
The Traiskirchen camp which now houses some 1,500 people continues to be the subject of political and media debates in Austria, and has repeatedly been criticized for poor living conditions.
IFES's study found that while 1,100 unaccompanied minors are being offered the best possible accommodation at the camp, reception centers and emergency shelters often lack basic necessities such as the ability to do laundry, cook or have any form of privacy.
Furthermore, about six in 10 young refugees have a maximum of €40 ($45) per month to spend. Their daily routines are heavily influenced by whether a school or German courses exist as a fixed component of their existence.
Reacting to the latest findings, Christian Konrad, the Austrian federal government's Refugee coordinator expressed disappointment Traiskirchen migrant with the lack of opportunity for the teenagers, calling it a "matter of concern."
The coordinator, speaking at a press conference on Wednesday in Linz, said the center was a prime "breeding ground for radicalization."
According to IFES, migrant boys in Traiskirchen mainly come from Afghanistan with 65 percent, while Syrians make up only 17 percent. The rest come from Iraq, Iran, Bangladesh and Sudan.
You can share this story on social media: