Poland steps up police patrols on border as Germany overflows with refugees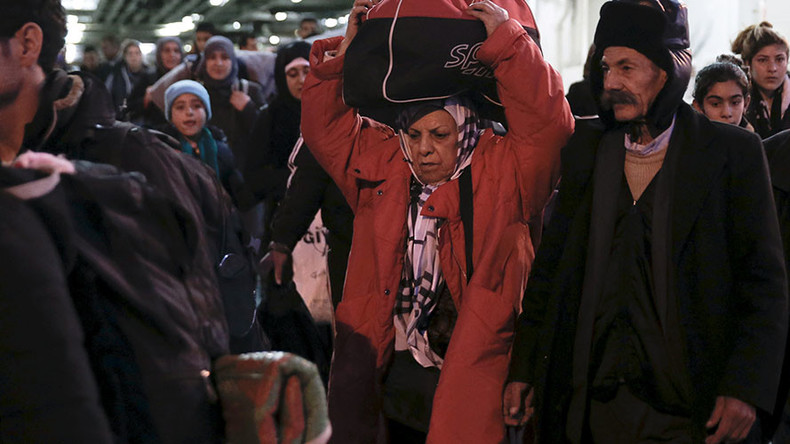 Polish towns located near the German border are strengthening security in an attempt to stop asylum seekers coming from the west. Refugees granted permission to stay in Germany can cross the border unrestricted thanks to the Schengen free travel zone.
Refugees are attracted to Poland due to a number of factors, including lower prices than in Germany, a favorable currency exchange rate, and sometimes simple curiosity. But according to Wladyslaw Dajczak, governor of the Lubuskie province, their presence poses a security risk for Poland.
READ MORE: Anti-migrant rally draws thousands in Poland (PHOTOS, VIDEO)
"We have received alarming news from western towns about a number of incidents that involved migrants that used to live in a refugee camp near Frankfurt. They are idling around the streets in groups of five to eight people, making noise at nights and disturbing local residents," Dajczak said in an interview to local newspaper Dziennik Gazeta Prawna.
The governor suggested that local authorities should step up police and town watch patrols and coordinate with border guards to address the issue. In addition to legal border crossings, a number of asylum seekers have entered Poland illegally, he said. The beefing-up of security would require reconsideration of the budget and a reversal of the current trend to downsize the police force.
Dajczak added that the refugees receive generous social aid from the German authorities, but the lower cost of living in Poland attracts them.
Poland is a champion among the Eastern European nations objecting to Brussels' plans to redistribute the large number of refugees arriving in the EU from the Middle East and North Africa among members of the union. The conservative Law and Justice (PiS) party won the parliamentary election in October on a Euroskeptic platform, which includes criticism of the refugee policy.
The new government, however, last month confirmed its predecessors' commitment to house about 7,000 refugees – a decision it had previously sharply criticized. Warsaw said it would stick to the roadmap while simultaneously trying to challenge the quota system in court together with other nations opposed to the idea.
The residents of towns where the refugees are to be housed are not thrilled by the future arrivals, either. Two towns have already successfully torpedoed plans to open refugee centers through mass protests.
Europe is enduring the biggest inflow of refugees since the Balkan wars, receiving over a million people last year. The influx is polarizing not only EU politicians but also European populations. Right-wing parties across the continent have enjoyed a surge in popularity as refugee-associated problems overshadow the initial welcoming response shown to migrants.
You can share this story on social media: