Ukraine's economy minister dramatically resigns, citing covert corruption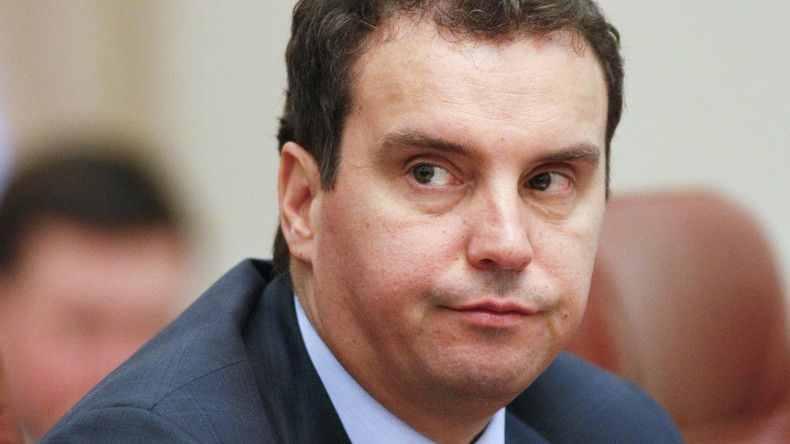 Ukraine's minister for economic development and trade, Aivaras Abromavicius, who is one of several foreign experts in the government who was brought in to help Kiev with reforms, has announced his resignation, citing corruption levels in the state.
"Neither me, nor my team have any desire to serve as a cover-up for the covert corruption, or become puppets for those who, very much like the 'old' government, are trying to exercise control over the flow of public funds," Abromavicius said in his official statement on Wednesday.
His ministry's reform efforts have been "paralyzed" by the "concrete actions" of certain officials and groups, Abromavicius said, adding that he has been pressured by the president's administration to appoint "questionable individuals" to his team or to key positions in state-owned enterprises.
The minister namely mentioned Igor Kononenko as the one interfering with his work. Kononenko is a close ally of Ukraine's President Petro Poroshenko, his deputy in the bloc in the Verkhovna Rada, as well as Poroshenko's old business partner.
"I can only interpret these actions as a persistent attempt to exert control over the flow of money generated by the state-owned enterprises," the minister said, mentioning the defense industry and Ukraine's national oil and gas company Naftogaz in particular. "I refuse to be part of this system," he added.
While the US and EU, which have provided billions of dollars to Kiev in aid, are expecting to see changes, to the country's economy minister it "has become clear that any kind of systemic reform is decisively blocked."
"I am not willing to travel to Davos and talk about our successes to international investors and partners, all the while knowing that certain individuals are scheming to pursue their own interests behind my back," Abromavicius said.
The minister's resignation is now subject to approval by parliament, but Abromavicius said that he would like to vacate his office "as soon as possible" and urged Verkhovna Rada to "avoid months of delay, as seems to be the usual practice."
Abromavicius's resignation has worried a number of Ukraine's international partners. A joint statement from ambassadors from the US, UK, EU and other countries said that diplomats were "deeply disappointed," as the minister and his team "have made important strides, implementing tough but necessary economic reforms to help stabilize Ukraine's economy, root out endemic corruption, bring Ukraine into compliance with its IMF [International Monetary Fund] program obligations."
Slowing down the reforms process may cost Kiev a derailment of the $40 billion deal with the IMF, EU and the US, which championed the aid expecting changes in the country, Reuters reported.
Commenting on the economy minister's Wednesday resignation, Ukraine's Prime Minister Arseny Yatsenyuk called it a "fuss" aimed at the "discrediting of the government and individual members of the cabinet, whom I and our faction support" in order to control state revenue and "seize power."
Speaking at a government meeting, the PM, as quoted by Reuters, said Abromavicius was "running from the field of battle, whereas we need to fight."
READ MORE: American, Georgian & Lithuanian get key jobs in Ukraine's new govt
The Lithuania-born politician and investment banker took Ukrainian citizenship in 2014, to occupy a ministerial post in the country where a law was introduced in December 2014 which allowed foreign experts to be invited into Ukraine's government.
With Abromavicius quitting, there will be two foreign-born ministers left: US-born Natalie Yaresko in charge of the finance department, and Health Minister Aleksandr Kvitashvili from Georgia. A number of foreign specialists, who initially arrived in Ukraine to take its citizenship following the 2014 law no longer have their jobs.
READ MORE: 'Street-style brawl': Ukrainian minister throws glass of water at ex-Georgian president (FULL VIDEO)
In May last year Harvard graduate Aleksandr Borovik, who gave up his German citizenship in order to work in the Ukrainian government, lost his high post in the economy ministry. A scandal unfolded, with Borovik claiming it was caused by his disagreements with Yatsenyuk.
You can share this story on social media: