Around 5,000 refugee kids missing in Germany, police say some could be victims of crime – govt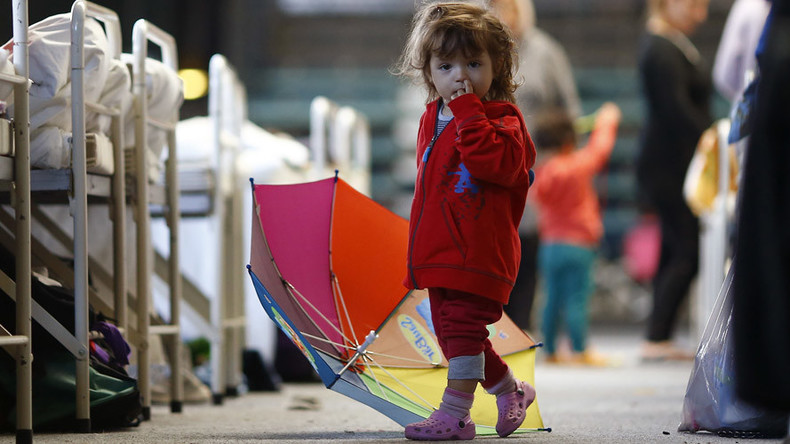 The German government says nearly 5,000 child and teenage asylum seekers have gone missing from refugee homes since the start of 2016. Police believe that figures could be distorted but have not ruled out that some might have been the victims of crime.
A spokesman for the German Federal Criminal Police Office (BKA) told the German newspaper Frankfurter Rundsch that a total of 4,749 unaccompanied children and teenagers had been reported missing since entering the country, The Local reported.
Around 10 percent of those who have disappeared are under the age of 13 and 4,387 were between the ages of 14 and 17.
Speaking to The Local, the BKA said that some of the children will turn up again, and that the figures could be misleading if a child has been reported missing at a number of different locations. However, the organization did not rule out that some of the minors could have been the victims of crime.
Heinz Hilgers, the president of the German Child Protection Agency said that lone children could be "easy targets" for criminal gangs.
"These perpetrators are not necessarily pedophiles," Hilgers explained, speaking to the Frankfurter Rundsch, as cited by The Local. "They have a disease that many people around the world have: that for them it totally does not matter how they make their money."
Meanwhile, Niels Espenhorst, a representative from the German Association for Unaccompanied Underage Refugees put the blame on the registration process in Germany.
"It is not only the system of how refugees come to Europe, but also the registration process in Germany," he said.
The news comes as Europol announced in January that 10,000 minors have gone missing since they entered the EU and that human traffickers are taking advantage of the refugee crisis to find sex and labor slaves.
At least 5,000 children have gone missing in Italy alone, Europol's chief of staff, Brian Donald, told The Observer, adding that another 1,000 have vanished in Sweden.
"It's not unreasonable to say that we're looking at 10,000-plus children. Not all of them will be criminally exploited; some might have been passed on to family members. We just don't know where they are, what they're doing or whom they are with," he said.
UK charity Save the Children estimates that at least 26,000 lone refugee children entered Europe in 2015. It has recorded multiple cases of sexual abuse, violence, and extortion involving child refugees and is calling on the UK to resettle 3,000 of them as soon as possible.
"These children need and deserve our help and protection. Left to fend for themselves, lone children are extremely vulnerable along the refugee route. Children report having been beaten, extorted, and sexually abused on their journey," Save the Children CEO Justin Forsyth said.
Meanwhile, Europol estimates that 27 percent of the refugees that arrived in Europe in 2015 were minors.
"Whether they are registered or not, we're talking about 270,000 children. Not all of those are unaccompanied, but we also have evidence that a large proportion might be," said Donald, signaling that his estimate of 10,000 missing child refugees is likely much too low.
In January, Norway was shocked after a three-year-old boy was allegedly raped at a housing center for asylum seekers in the city of Stavanger.
The police did not disclose the nationality of the boy, but Norway's TV2 reported that the boy had been living in the center with his family. He was driven to a rape crisis clinic with his mother and then to the children's ward at Stavanger University Hospital, The Local reported.
You can share this story on social media: